In January 2012, a large team travelled to the Arctic Circle in Sweden to field test a wide range of equipment and to run the selection of the two driver/mechanics required for the expedition.
Selection Philosophy
There had been many initial candidates from within Finning in the UK and Canada, most of whom were field service engineers and workshop personnel. By the time we left for Sweden these had been shortlisted to five mechanics: two Canadian and three British.
These had been chosen from a much bigger list after they had each proved their technical ability to specialist trainers at Finning, and survived interviews by Sir Ranulph and his 'black talk' (a no-holds-barred description of the reality that lay ahead). The five had been ranked in terms of their technical ability, and this information was passed on to the selection team.
It is important to stress at this early stage that whilst we were looking for the 'best' candidates, this didn't necessarily mean those with the most amazing backgrounds, advanced skills in underwater knife-fighting and crocodile wrestling. Our prime candidate was someone who was not only competent but also compatible with the existing team members. During the traverse, the team will be living in extremely confined quarters with no one else but their fellow team members for company for hundreds of miles in any direction through the darkness of the Antarctic winter. People with big personality swings, for example, would be a disastrous addition; those who can't keep on top of the personal administration and leave a trail of discarded equipment all around the living and science caboose will soon become tiresome.
Another thing we'd be looking for was how people changed when they got cumulative tiredness and were then presented with an unwelcome task. Did they rise to the occasion or did they get moody, sullen or aggressive? We needed someone who was thorough and could be relied on to complete a task; someone who, if they didn't know something, had the humility to say so rather than muddle through and possibly make a bad situation worse.
These are all intangible personality facets, not picked up from a CV or even an interview. The field testing in Sweden allowed us to have prolonged exposure to our shortlisted candidates in a regime that we could control to bring out the traits we were looking for. However, the selection process got underway even before we arrived in Sweden, as the candidates' competencies for logistics and navigation were put to the test during the long drive and ferry crossing from England.
Part 1: Cannock to Esbjerg
All the team going to Sweden by land and sea (others would fly over to join us later) met at Finning's facility in Cannock on 29th January. Everyone knew someone, no one knew everyone.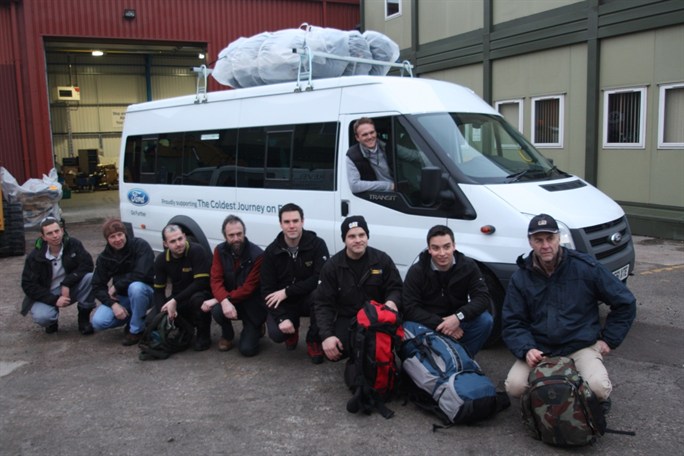 Left to right: Andrew Varley, Andy Thomas, Craig Lusada, Anton Bowring, Matt Stevely, Danny Main, Spencer Smirl, Ran Fiennes. Driver: Tris Kaye.
All of the equipment and tools needed to service the D6N were packed into a dedicated Finning service van, with all the equipment for testing filling an entire panel van and much of our own minibus besides. This meant we now had a three-vehicle convoy – rather than the single van we originally anticipated – and so we were grateful that DFDS, the ferry company, extended their sponsorship to include all three vehicles.
Who was there?
Panel Van: Expedition co-leaders Sir Ranulph Fiennes and Anton Bowring travelled together alone, allowing them a rare uninterrupted opportunity to plan for the greater undertakings to come. The length of journey would mean that Anton would have to, at some stage, let Ran drive. This is not for the feint-hearted but at least he would be restricted to the speed of the convoy.
Finning Service Van: Candidate mechanics Craig Lusada and Andrew Varley, from Yorkshire and project design engineer Andy Thomas, who had been slaving away for months designing the modifications to the D6N bulldozers.
The Minibus: Canadian candidates Matt Stevely and Spencer Smirl, were joined by the UK's Danny Main, as well as Steve Holland, Russell 'Tomo' Thompson and Geoff Long.
Whilst Danny underwent a last-minute minibus training course, the task of planning the route with potential fuel and food stops was undertaken by Craig and Andrew, which they did with meticulous detail. Walkie-talkies between the vehicles would keep us in touch, although watching a Canadian trying to understand a Yorkshireman over the radio proved to be an ongoing source of entertainment.
The expedition at this point was without most of its 'final' team members, so the selection team underwent additional training to allow them to field test some of the equipment. Steve would do his best with the Iridium satellite communication system and the ground penetrating radar; while Geoff and Tomo both underwent film training with BBC News and Panasonic so that they could document the trip until a BBC News team joined later on. The Coldest Journey will be self-filming, so this trip also served as a useful measure of how quickly the skills could be consolidated.
Despite the fact that the top speed for the minibus was restricted to just 62mph, we got to the DFDS check-in at Harwich in plenty of time. Geoff and Tomo disappeared to plan the filming sequence of our vehicles boarding the ferry. To prevent our artistic requirements from mucking the boarding procedure we were allowed to board last. Thankfully there wasn't too much traffic – the North Sea in January is not a tourist hotspot.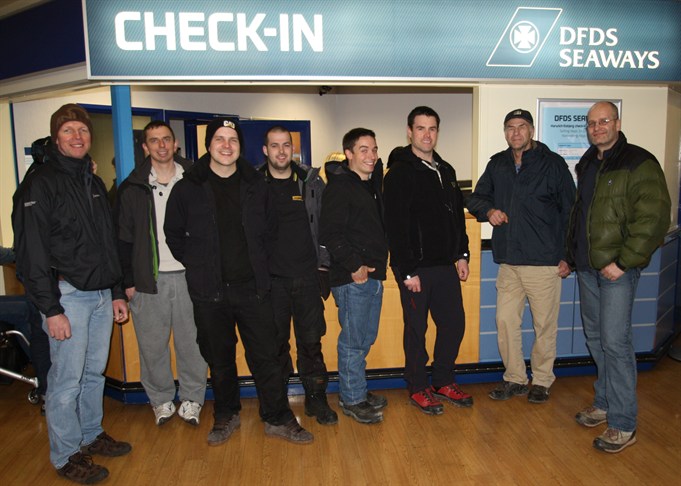 DFDS Ferries Check-In on a Sunday afternoon in January – the place to be
Once in the cavernous vehicle deck of the vessel we heard a Danish voice over the tannoy: "Would a Mr Ron Feens (sic) please come to the information desk". We all dutifully followed with our personal gear, the broadcast cameras and other paraphernalia to find out that we had been upgraded to 'Commodore' class. It would seem that travelling with this Ron Feens bloke had its perks!
We pulled out of Harwich as it got dark and were soon tucking into the excellent buffet. As we sailed past various gas platforms it soon became clear that the North Sea is far from empty.
It was our intention that the candidates didn't have too much downtime and so straight after dinner we set up a projector for a series of presentations. First off Steve Holland delivered a powerpoint prepared by Mike Stroud on the hazards of working in the cold, possible injuries and how to avoid them.
With health and safety duty fulfilled we then put on the film that was produced after the Transglobe Expedition undertaken between 1979 and 1982. This was the first and only circumnavigation of the world by its polar axis, and the film served as a very useful reminder to all just what the team had achieved back then and that the public image of Sir Ranulph now as the eccentric pensioner is far removed from the truth.
Suitably chastened by the exploits of the Transglobe team and just when they thought they were free to get some sleep, the candidates were presented with blank sheets of paper and asked to write an essay entitled "What is the point of exploration in the modern World?" whilst the selection team then retired to discuss their first impressions of the candidates.
After a comfortable night in Commodore class followed by a hearty breakfast, the team assembled for a series of sessions run by Tomo. As part of his day job he runs a lot of corporate team building and development exercises which he adapted to see how our candidates interacted with each other and dealt with specific challenges.

Tomo explains key personality classifications
This kept the participants busy until the coast of Denmark came into view. Through charm and cheek we managed to get onto the bridge to film Esbjerg approaching. Lots of staring thoughtfully out of the front windows by Sir Ranulph, being filmed by Geoff from different angles.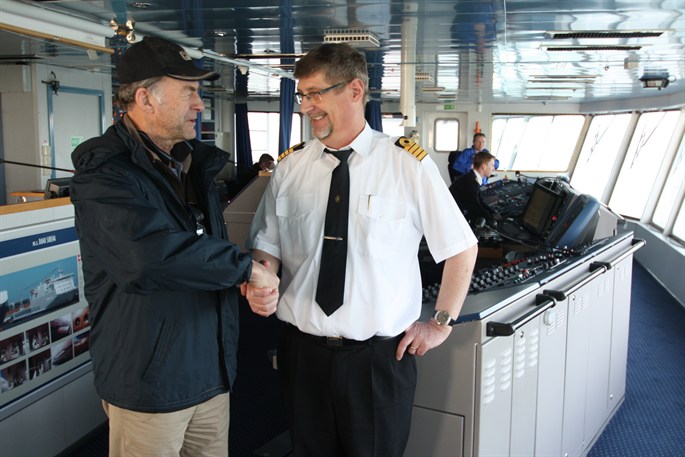 Sir Ranulph with our Captain

Geoff DeMille comes over all panoramic
It's lunchtime by the time we touch Danish soil. It's cold and damp and will soon be dark – we have a 23 hour non-stop drive ahead of us…
Written by Steve Holland – tasked by Sir Ranulph with running the mechanic/driver selection and equipment testing. The views expressed are his own – collaborators are anonymous.