The Coldest Journey aims to raise US$10 million for Seeing is Believing, an international initiative which is tackling avoidable blindness.

Every five seconds, someone in the world goes blind and every minute, that person is a child. Sir Ranulph and the team will take around six months to cross the Antarctic, during which time more than 2.5 million people will lose their sight needlessly.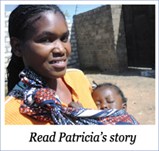 Eighty percent of blindness is avoidable, and for as little as US$30, a person's sight can be restored.
Seeing is Believing is a collaboration between the International Agency for Prevention of Blindness and Standard Chartered, the lead sponsor of our expedition. Together they have set the ambitious target of raising $100m by 2020 and The Coldest Journey aims to be a major contributor to this total.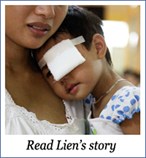 Every time someone makes a donation, Standard Chartered will match it dollar for dollar, pound for pound – doubling the impact of the pledge.
For many, going blind can mean the end of their education, job, livelihood and independence. Not only does blindness affect the individual, it affects families and whole communities. It's estimated that US$200 billion is lost annually in lost productivity due to avoidable blindness.
You can help make a real difference by making a donation today which will be matched by Standard Chartered.
Learn more about Seeing is Believing – the projects, the people, the impact – by visiting www.seeingisbelieving.org.
Key facts and figures
During the six-month expedition 2.5million people will go blind needlessly
Every five seconds, someone in the world goes blind
Worldwide, 39 million people are already blind and without effective intervention, it's estimated this number will rise to 76 million by 2020
Every minute, a child goes blind and only 10% of blind children go to school
80% of blindness can be prevented or treated
90% of avoidable blindness occurs in poorer countries
This is the first time Sir Ranulph Fiennes has raised money for charityoutside of cancer and MS. Sir Ranulph's charitable endeavours have raised a total of £15 million to date
The entire expedition team, ship crew and HQ staff are volunteers