From amateur to Attenborough in a day… camera training at Panasonic, Pinewood Studios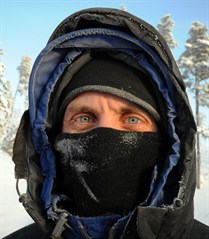 By Geoff Long (pictured, right)
At the request of expedition Equipment Specialist Steve Holland, I was already involved in the technical support of the expedition – looking after the health of the test crew in the -55C "cold chamber" at Millbrook and helping determine the best clothing systems required for the various roles of the Ice Team. This connection with the expedition was based on the professional side of my life, working at the University of Portsmouth's Extreme Environments Laboratory within the Department of Sport and Exercise Science, where we investigate the physiological and psychological responses to adverse environments and help with the selection, preparation and protection of those who are mad but marvellous enough to enter them.
During our many conversations over technical issues, Steve became aware of my 'artistic' side, in the form of a personal interest in graphics and photography and knew that it wouldn't take much to get me involved in helping document the project visually. Sure enough, it took very few of Steve's extensive powers of persuasion to get me signed up to a day of training in the Panasonic offices at the legendary Pinewood Studios, along with Russell 'Tomo' Thompson, who himself had some experience of film making through his company Cumulus Outdoors.
To add to the famous location, the trainers recruited for the job were no lightweights – BBC Producer Mark Georgiou and highly respected BBC camera journalist Julie Ritson, who had recently returned from Afghanistan. These two experts would attempt to guide us through every stage of the process to produce a piece for the BBC website or the 6 O'clock news… all in a single day. That meant learning how to script a sequence, frame shots, direct people, control the broadcast quality camera, edit the raw footage, known as 'rushes', and transmit the results back to the UK via satellite. No problem…!
To further focus our minds, we were informed that our main task would be to document the then upcoming trials in Northern Sweden for the time that the BBC crew were unable to be around, and also to pass our 'expert' cinematic knowledge onto the potential expedition recruits who would be part of that trip.
Pressure at Pinewood
Arriving at Pinewood was suitably memorable, as once through the regular style security gate I was confronted with a full-size Medieval castle recently built for the Snow White movie, quite a surprise when you were on the M25 fifteen minutes earlier – this was going to be an interesting day! A quick stroll down Goldfinger Avenue and a tour of the Panasonic demo room later (including the biggest 3-D screen you can imagine) and it was time to get down to business.
With our minds already somewhat apprehensive about the challenge ahead, Mark Georgiou wasted no time in upping the anxiety levels by stating that he didn't want any 'happy snappy rubbish' or words to that effect that I can't repeat here! We were to produce broadcast quality sequences, suitable to be put straight out on the evening news. Gulp…
There then followed a deluge of information, in essence a full media course compacted into a few hours. The terms and techniques came flying our way; long shots, wides, close-ups, cutaways, rushes, directional mikes and of course 'crossing-the-line', that schoolboy error whereby the camera passes from one side of an imaginary line between characters or objects in the scene to the other, resulting in great confusion for the viewer and, as we were to find out, much derision from Mark. Julie gave some clarity to our confused thoughts, with a Top-10 of Do's and Don'ts which helped enormously, but all the same somehow we had to try and drag ourselves from outright amateurs to actual Attenborough's in a matter of weeks.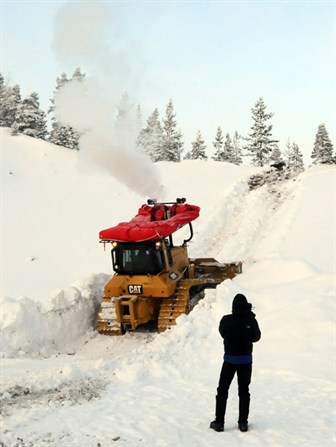 Tomo and I were given some homework to do, and in the following weeks produced a short film to showcase our new found knowledge. It was passable, but Mark's post-editing comment said it all when he sent a link to final cut – 'this is the best I can do with the material…'
This basic knowledge was then stretched further during the expedition trials near the Arctic Circle, with the additional challenges of the cold and tricky lighting conditions.
As temperatures reached -40oC, it was not only batteries and LCD screens that started to struggle and my ability to operate the camera controls with cold gloved fingers became a real issue. Also holding the camera in a braced position, with hand held vertically up, did nothing to maintain the necessary blood flow to keep fingers warm.
The 'flat' light of the snowy landscape required some careful exposure, and getting the correct white balance between shots was also essential to make sure that snow wasn't blue in one sequence and white in the next.
However, despite the difficult conditions in Sweden, my techniques of shot set-up, framing and exposure started to improve and resulted in some useful footage for the documentary that will be produced to cover the expedition.
I will be joining the ship in Cape Town to put my news skills into practice again on the ship south to the Antarctic where we will drop the Ice Team off. With some ingenuity and the aid of a kite, I am also hoping to get some aerial shots of the team as we unload the many tons of equipment and set up a base camp prior to their departure on 21st March 2013.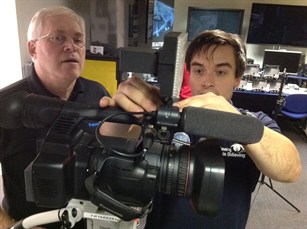 To conclude, let us spare a thought for the Ice Team members who will be self-documenting their crossing in far harsher conditions than I experienced. They will also be creating multiple back-ups of this precious footage and transmitting sections of it back to the UK, so we can be with them in some way on this amazing journey.
Geoff Long is the expedition's Technical Co-Ordinator
The Coldest Journey team would like to thank Mark Georgiou and Julie Ritson from the BBC, John Funnell (pictured above right with Spencer Smirl) from Panasonic, Jermey Cross from 1212 Productions and editing expert Richard Payne from Holdan in helping to give the self-documentation of our expedition every chance of success. As well as training Geoff, they have since spent many further hours teaching several members of the Ice Team and Operations HQ in filming and editing techniques to ensure we are as ready as we can be for this challenge. We endeavour to make you proud!