"The Coldest Journey aims to inspire a generation of schoolchildren across the Commonwealth to become the scientists, engineers and leaders of tomorrow."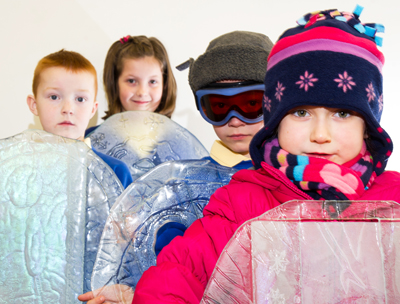 The expedition offers an unprecedented opportunity to generate diverse, engaging, real-time educational content for schools that will galvanise children's interest in a host of subjects. From physics and maths to geography and meteorology, The Coldest Journey will be the backdrop and inspiration for a wealth of resources available to children across the Commonwealth and reach up to a hundred thousand schools.
Materials to match curriculum needs from Early Years to post-16 will be available through a password-protected sub-site through this website, and cover topics extending from environmental sciences, through history, geography, initiative and team workshops, to the fundamental questions concerning the aspirations of mankind.
An interactive map will enable students to identify the current position of the ship and the expedition team, and over the coming months there will be live feeds from Antarctica, including interviews with Sir Ranulph and the crew, and real science data collected on the expedition ship and traverse.
Using its on board Open Port system, the SA Agulhas will play a vital role in providing the interactive and real-time educational content on the science and Commonwealth activities undertaken by the vessel and its crew throughout the voyages to and from Antarctica. Students will also be able to follow the Ice Team's progress, take part in competitions, and study fully integrated curriculum modules. These courses are currently being developed by Durham's Education Development Service – one of the UK's leading education resource providers – in partnership with Sir Ranulph Fiennes, Dr Mike Stroud and the expedition scientists, engineers, mechanics and Anton Bowring, the marine organiser.
Microsoft has been working in partnership with the Commonwealth Foundation to develop the password-protected platform, which will be continually updated and managed using cloud technology during the expedition. For a modest fee, this education sub-site will be accessible to more than 43,000 schools in the UK and a further 57,000 across the Commonwealth's 54 nations.
Materials are also being adapted for use in classrooms where web-access and broadband is a limiting factor.
All proceeds from the subscription go directly to making the expedition possible, with any surplus paid to Seeing is Believing.
Your school's subscription includes:
Specially designed, downloadable education resources, matching curriculum needs at every level from Early Years to post-16, across a wide range of subjects.
Access to exclusive blogs and regular interviews with the Expedition teams, including key information that will ONLY be released to subscribing schools.
Exclusive video and photographic material from Antarctica.
Opportunities to enter competitions with prizes for your school that money can't buy.
First-access to certain primary scientific data emerging from the Expedition, relevant to science, geography and mathematics.
A fund-raising guide that would enable schools to recover the full cost of their subscription through simple sponsored activities, so that your involvement with The Coldest Journey need cost nothing at all!
What it costs:
All the above will be yours for a one-off subscription providing access to a password-protected educational web area.
2 full years' access: Secondary Schools – £400 +VAT
2 full years' access: Primary and Nursery Schools – £150 +VAT