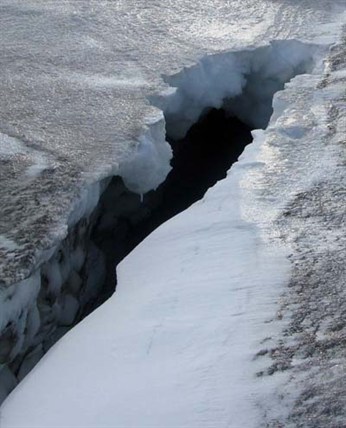 In early October 2012, the Ice Team spent two days in the Lake District receiving expert training on the use of our emergency rescue packs. We will be taking these with us on the expedition in case of a crevasse fall or similar major incident. Although most of the team have proficient mountaineering and rope work skills, the scale of The Coldest Journey expedition means we will be using industrial items of kit which would normally be used in the Rope Access Industries and are largely unfamiliar to us.
Lyon Equipment from Tebay, Cumbria, kindly donated both the training and the two emergency 'grab bags'. These will be stationed in the two cabooses and they contain all of the essential items of kit we will need if a major incident is to occur on the traverse. The purpose of the training was to familiarise ourselves with all the equipment and learn how to use it to rescue not just other members of the team should they fall into a crack, but also ourselves if we fall in and there is no-one around to help us out.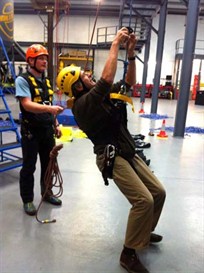 The first day was spent mostly at Lyon's training facility initially testing and getting used to the full-body harnesses, before learning a few of the crucial knots we need to know and then moving onto hauling ourselves up a rope. We used a Jumar and leg sling to move up, then switched at the top to an abseiling device called a Petzl Rig, so we could lower ourselves back down again. We then moved onto travelling with a partner and learning how to set up an anchor if one of the team tied to you falls down a crevasse. By the end of the first day we were setting up pulley systems of 3:1, 5:1 and 9:1 ratios while dragging an  85kg dummy up the side of a large platform. We certainly noticed a difference between pulling your mate while training and pulling the dummies around. Lifting a dead weight who doesn't tip you off if you're doing things incorrectly is much harder than it sounds.
After a long but invaluable day's training, we headed back to Martin Bell's nearby farmhouse (the expedition's Antarctic Consultant) for a quick scrub up before our evening meeting in the local village pub.
Day two saw us out on a Lake District crag putting our new industrial rope skills to good use. Hauling "unconscious personnel" 30 meters up a cliff face, abseiling back down and doing it all again before the rain set in was quite an exciting task.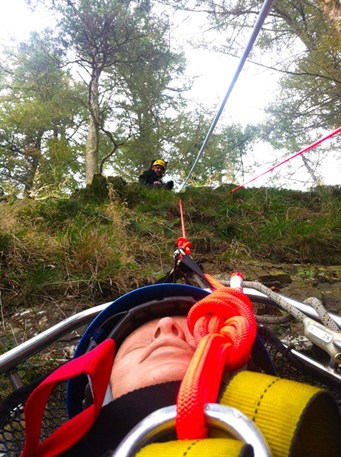 The course was a great success and we all gained sufficient knowledge to be able to, firstly, get ourselves out of a crack should we fall inside and, secondly, rescue a team mate.
We noticed how tricky some of the equipment is while using just our bare hands; doing the same while having two or even three pairs of gloves on in the middle of winter will most definitely need some extra practice and adjusting of the kit. Although we will be setting up our own training programme while on the ice to keep our skills fresh, this was certainly one training course we hope we'll never need to use!
By Ian Prickett