Seventh Ice Team Member Announced
Coldest Journey team today confirmed that Sir Ranulph and his team of intrepid explorers will be joined by a seventh member. Known affectionately as Mary Mouse, the 15cm tall rodent is already a step ahead of the team having travelled down to Cape Town on board expedition ship, SA Agulhas.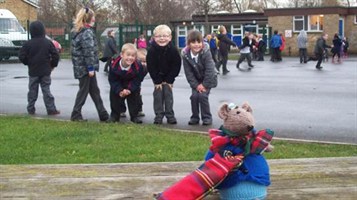 Surviving restless seas, tropical thunderstorms and pirate lockdown, Mary arrived in South Africa on Friday, 28th December full or energy and spirit. She will now wait aboard the SA Agulhas for her six expedition team mates to arrive early in the New Year. It is expected that, despite having proven skiing and scrubbing skills, she will assume the role of team mascot.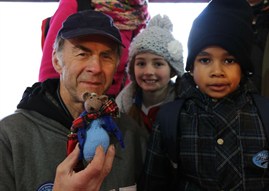 Whilst improper to reveal a lady's age in public, we can confirm that Mary started life in County Durham, where until recently she had been under the dutiful care of the pupils and staff at St. Mary's Catholic Primary School, Newton Aycliffe. On 4th December 2012, she was escorted to London by headteacher Barbara Reilly-O'Donnell, teacher Debra Hargreaves and Year 4 pupils Mia Brewster and Nicholas Salmon, where she was formally introduced to Sir Ranulph.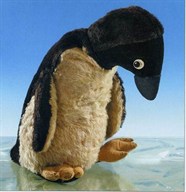 Mary's inclusion on the traverse pays homage to Ponko the Penguin (pictures left). Ponko was the nickname given to Captain Robert Falcon Scott's official photographer in Antarctica, Herbert Ponting. Ponting spent a great deal of time photographing emperor penguins and when he returned from the South, toured England giving lectures with a toy penguin mascot called Ponko by his side. The mascot is currently homed in the National Maritime Museum in London.
Since her arrival in London, Mary's life has been a whirlwind of adventure and celebrity spotting, having rubbed shoulders with the likes of trustee Joanna Lumley and expedition co-leader Anton Bowring.
"We hope Mary will be able to make the journey and we look forward to tracing her steps," said Mrs Hargreaves, who has been part of the team writing resources for schools as part of the Coldest Journey education package. "Maybe one day she will even have a home in the Maritime Museum, alongside Ponko."
Keep up with Mary's progress on the website and on Faceb