Super Mega Pancakes – by Richmond Dykes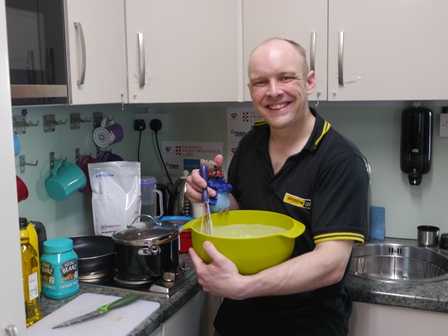 Well, what can I say, we've had a rare day off after a busy time winching our way across the numerous crevasses.  So, you might ask what do you do in your time off in Antarctica? Well, Mary and I have fallen off the pancake wagon in a big way, so we mixed up a mega batch of pancakes for dinner tonight [Sunday].
I have raided the food boxes for copious packets of pancake mix and hoofed them into two red mixing bowls which turned out not to be big enough for the project at hand.  We had to upgrade to our largest green bowl which just about held the mixture, a heavy bit of stirring then ensued to get the whole thing to the right consistency.  I was on dinner duty tonight and had thought about mixing the menu up a bit so removed our beans from the corn beef hash that was for dinner and mixed the beans with two tins of ham chopped into chucks and warmed up.  The pancakes were full size of the pan and took a while to cook but all was grand, bar the kitchen looking like a bomb site.  Best thing about being the chef for the night is you do not have to tidy up afterwards.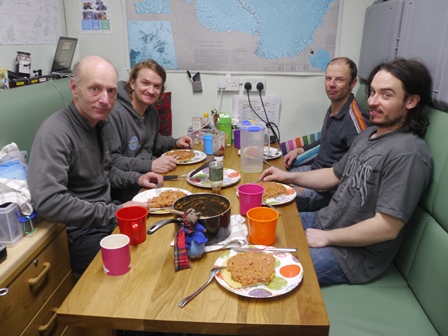 Well everyone was smiling when dinner arrived on the table especially Brian and Rob who had been out skiing today up one of the mountains, smiles where soon wiped off the boys faces as the sign of fullness overcame the most of them at the remaining few bites.  Let's just say that Brian managed to beat Ian hands down and cleaned his plate while Ian bottled out with four mouthfuls to go.  What a big Jessy and he gives off to me about having hot milk with my Weetabix.
Mary would like to say a big hello to her sister Martha and all the kids at St Mary's Primary School, she is hoping that you are all having a great term at school and looking forward to Christmas.