All at Sea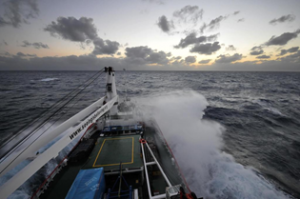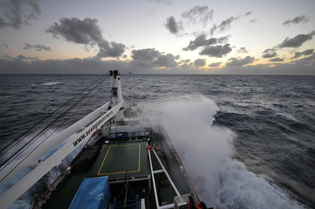 ALL AT SEA – by Anton Bowring
We have reached the Roaring Forties. We are at 42°S to be precise. If you read the Admiralty Pilot Book, it describes the area we are entering thus: "…rough seas are common in all seasons, becoming very high or even phenomenal during the passage of the deep E-moving depressions. Maximum wave heights are thought to be around 25m over most of this mainly W-wind region, …". It is true the wind is westerly but, at present, we are in drizzle, limited visibility and an uncharacteristically calm sea. Not so much of a roar but possibly a muffled growl. I wouldn't be surprised if conditions get increasingly dramatic as we continue south but, for now, the ship is pitching ever so slightly on a palpitating sea.
The only thing that bothers me is that we are going in the wrong direction. Our destination, Crown Bay, is some 1800 nautical miles to our south east and we are heading south west! The reason for this contempt for straight-line common sense is that we have four scientists from the South African Council for Scientific and Industrial Research on board. There should have been five of them but one literally missed the boat when we left Cape Town early on Monday morning. Their studies into the carbon cycle of the Southern Ocean require the ship to navigate The Good Hope Line, a stretch of the Greenwich (or 'zero') meridian from 51°43'S to 55°S. The scientists are sampling phytoplankton and collecting other oceanographic data in an on-going international project aimed at understanding the Southern Ocean's effect on climate change. This is all good stuff but it will extend our voyage to Crown Bay by at least two days. We need to get there as quickly as possible to rendezvous with a Belgian team of scientists based in the nearby Princess Elisabeth Station who have offered to help us unload. They have other commitments from 21st January which is quite possibly when we shall now arrive. Nothing in these waters is certain. Wind and ice rule everything. Although I am delighted that we are helping the scientists on board, I also have a supressed impatience to get on track while conditions are favourable. Further south, we are likely to encounter low pressure systems and storms. We may be in the Roaring Forties but we still have the Furious Fifties and the Screaming Sixties to cross before we literally hit the pack ice and the quieter waters that are held in check by their frozen surface.
There is however one advantage to the delay., unbeknown to us – until two days ago -, our permit to visit Antarctica, which states "Valid from 1st January 2013″ actually expired on 1st January 2013! This document, issued by the UK Foreign and Commonwealth Office is the critical passport without which we would be in breach of international Antarctic treaty regulations if we were to venture south of 60°S. The reason for its cancellation was because we failed to arrange search and rescue facilities. For the past five years all our efforts have been dominated by the need to satisfy the stringent conditions which require any private expedition to be entirely self-sufficient. Mike Stroud's original idea to complete the first winter crossing of Antarctica on foot was not considered sensible by the Foreign Office's 'Polar Desk'. As a result, over the years, the project grew to include the massive Caterpillar bulldozers, the sledge borne living quarters and a ship to transport this clutter of ironmongery together with mechanics, doctor and logistics experts and all that they would need to survive for a year in Antarctica. In addition, we had to secure adequate insurance to cover search and rescue services – even though any such help would be limited to the few days at the start and finish of the expedition while aircraft and rescuers were still in the region. From the end of February, the Ice Group will have no access to outside assistance other than by radio and satellite link. In other words, they can shout for help as much as they liked but they won't get it (other than in the form of advice). Despite this we need to have search and rescue cover for the period from arrival at Crown Bay to 29th February – just over one month. There is only one provider, a company called Antarctic Logistics Centre International (ALCI). Due to the Christmas holidays and other factors beyond our control, a contract with ALCI, although broadly agreed with them, had not been signed and presented to the Foreign Office by the due date. Hence the withdrawal of the permit and the rather awkward state of affairs that prevents our momentous thrust towards Antarctica by restricting our passage beyond latitude 60°S. This lies just a few days away. As I write, this dilemma is on all our minds. It could be a terminal situation affecting many generous supporters and helpers as well as bringing to an end any thought of raising funds for Seeing is Believing, or our plans for schools and science. However, the initial shock has been tempered by the knowledge that no one (not the Foreign Office nor ALCI) wants to stop us as long as we comply in every respect with the Antarctic Treaty conditions. This we can do and I feel confident that we shall have a signed contract within the next couple of days, despite the miles that divide the signatories. The question is, will it be in time?
Now that all the expedition members are on board, the regime has changed since we sailed from London to Cape Town. My office has become a major communications centre. At any one time there are half a dozen of us (sometimes more) busy at computers, planning, communicating or just staring blankly at screens. Ran has learned how to send e-mails which is a major breakthrough and will be a huge relief to his team back home who normally have to take laborious dictation from him over the airwaves. Spencer can't work without music, at least that's what he calls it, I'm not so sure. Mary the mouse is into everything and this morning she was holding forth at a planning meeting.
One notable difference when there are 17 of you on board is that you get 17 opinions to everything that requires a decision. This is well demonstrated by the Transglobe Expedition, 30 years ago. When we got into pack ice, everyone on board congregated on the bridge. The long suffering captain had the unenviable task of deciding the strategy for most effectively breaking through the ice. With a commanding air, he would instruct the officer of the watch to come "full ahead" and the helmsman to steer a particular course. We all stood about in silence peering through the wheelhouse windows when, with a resounding thud the ship would hid the ice, rise up with a shudder through the entire hull and then, with engine pounding away, gently slip back without leaving a mark on the floe except a smudge of red paint. At this all of us would turn to neighbours and comment "I wouldn't have done that" or "He'd do better to hit the ice that way" or "Useless, what a plonker!". On one occasion, this wealth of comment and practical advice was enhanced by the larger-than-life, Dave Hicks, deckhand, assistant cook and source of constant entertainment. It so happened that Dave was very drunk and stuck in the crow's nest, a booth not dissimilar in size and shape to a telephone kiosk. It sounded as if his ample polar clothing had become stuck on the duplicate controls which on normal occasions enabled the ship to be driven from this perch atop the foremast. The intercom was switched on and as the captain, Admiral Otto Steiner, drove the ship back and forth in a frenzied Royal Naval attack on the ice, to many comments from his crew, the drunken lookout was broadcast throughout the bridge muttering expletives as he lurched to the ship's violent movement with occasional bursts of song and loud burps. Surprisingly the Admiral managed his campaign against the ice with such concentration that it seemed he was unaware of the struggle going on aloft. It will be interesting to see how we fare this time. I suspect that the whole procedure will be handled quietly and efficiently with only the essential crew members allowed on the bridge.
When, a month or so ago, we were berthed alongside HMS Belfast in London awaiting the arrival of our Patron HRH The Prince of Wales, Ran and I loitered at the top of the gangway to greet him. While we stood there I spotted a strangely clad, white bearded figure in red trousers, a bulky duffel coat with a rucksack on his back. If you looked at him through half shut eyes you could be forgiven for thinking it was Father Christmas in mufti. I nudged Ran and pointed to the apparition. We both laughed in disbelief as the figure, defying the security guards, strode up the gangway and bellowed "Hello dear boy" and proceeded to hug us with some passion. It was Dave Hicks come to say good bye!
All that seems a long time ago. We are now living in a different world. A number of the team under the direction of the expedition's Australian marine scientist, Adrian McCallum, are on the Monkey Island peering through the murk to spot and count birds and mammals. We saw two minke whales yesterday. It's quiet in the office at present. Spencer has gone below. Richmond is celebrating his birthday somewhere. The noon blast on the whistle has sounded and it is time for lunch (or, as it is typed on the notice board "Lunge 12.00 – 12.30"). Bon appetite to all.
Anton