"Terra Firma"
By Anton Bowring, Cape Town.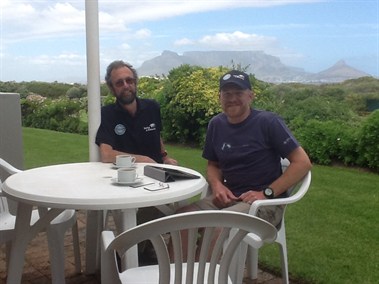 Yesterday the expedition support team stepped ashore properly for the first time since we left Cape Town on 7th January. Although we got off the ship in Antarctica, the ice on which we stood was afloat. Even though we were surrounded by a landscape of undulating whiteness, we were no more on terra firma than the ship itself.
Inevitably we are all feeling unsettled. Our home for the past months is now changing in character. The ship looks pretty much the same but the crew are different and new faces are greeting us, strangers, unaware of our adventure – nothing to share, no jokes or grins exchanged as we pass each other in pursuit of our individual duties. Our cabins are clear. None of our personal trappings adorn the shelves and other surfaces. Is this my cabin? It looks like it but it has no personality, no sense of home. We are nomads now. It is time to go.
We are breaking up as a group. Eric, Glynn and Adrian are the first to go. Their flights are booked and they will be gone by evening – Adrian to Australia, the others to London. The rest of us are a helpless looking group standing on the dock. With our bundles of luggage and paraphernalia we stuff ourselves into a couple of hire cars and take a final backwards glance at the SA Agulhas. Cranes are loading containers and complex scientific constructions of stainless steel and clustered sensors. She'll be back at sea in a couple of days with a group of oceanographers. Aliens moving into our spaces. Our own container and Snowflake are packed and ready to be collected by our friends from Transglobal Express for shipment back to Britain. That's it. Job done. Next chapter.
The Dolphin Beach Hotel lies north of Cape Town in aptly named Table View. We have cabins in this stunning setting. We can look out from our rooms and terraces across Table Bay to the mountain which, today has its tablecloth of cloud. We are on the beach. The familiar sound of breaking waves is a reassurance. We are ashore, but only just. It is a perfect transition from our seafaring past to our rather more mundane future. For the moment we are cosseted and protected in our comfortable rooms and elegant surroundings.
This evening we dined in the well-known 'Blowfish' restaurant which is justifiably the pride of the hotel. We all had seafood – beautifully prepared to order, such a selection. It will be a while before we adapt to terra firma! A good night beckons. No more rolling or pitching on a moderate westerly swell.
We think and wonder about our six friends in their purposeful, elemental existence. What a contrast now exists between us. They are digging their way out of the ice. We are digging into the softest duvets. It's not a bad life here on terra firma. That's for sure.
Thank you Singer Group and all of the staff at the Dolphin Beach Hotel for your very great generosity.
(photo: Anton, expedition co-leader, (left) with expedition logistics officer, Duncan Cameron, at the Dolphin Beach Hotel, Marine Drive, Table View. Cape Town)