Bangladesh Blog – by Anton Bowring
It is in stark contrast that, while the expedition team busy themselves with their scientific studies in the remotest part of the world, Ranulph Fiennes, Joanna Lumley and I spent a few days last week in Dhaka,   Bangladesh. Dhaka is one of the world's most densely populated cities. Whereas Brian, Ian, Richmond, Rob and Spencer have an area the size of Britain between them and their nearest neighbours, in Dhaka we were sharing our few square miles with some 15 million others.
Our mission was to visit clinics in the city where Seeing is Believing and their partner organisation, Sightsavers, have been supporting efforts to combat problems of blindness and a myriad of sight disorders which affect an unacceptably high proportion of the Bengali population.
Seeing is Believing was conceived in Bangladesh ten years ago when local employees of Standard Chartered Bank identified the problem of blindness and the fact that as much as eighty percent of impaired vision is avoidable and/or curable. Since 2003, the bank and its employees around the world, have campaigned and fundraised vigorously to combat the dilemma. As part of its commitment to the cause, Standard Chartered has matched all contributions dollar for dollar. For any commercial organisation, this is as close to altruism as it is possible to get. The company and their employees have a true, sincere and practical approach to their campaign to eliminate avoidable blindness in the developing world. If I sound like a marketing executive promoting a new product, I make no apology. We all had a sobering and moving experience learning about the problem and observing, first hand, what amazing work is underway.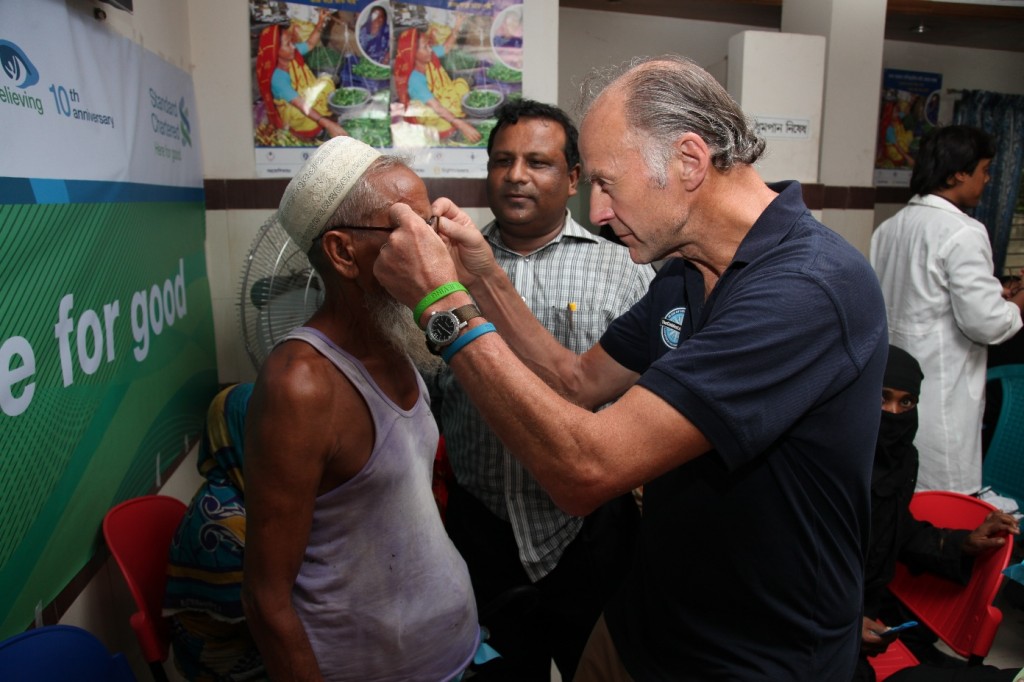 Joanna, Ran and I are proud Ambassadors for Seeing is Believing. Joanna has visited Dhaka in the past. In 1997 she contacted Sightsavers following an appeal she had seen in a newspaper. A few years later, she visited Bangladesh to see for herself the initiative "Child Cataract Campaign" in action. It seems almost unimaginable that cataracts affect children in Bangladesh and other developing countries and that some are even born with the condition. While she was there in 2005, Joanna met a 5 year-old boy, Arif, whose vision was completely obliterated by cataracts. Following his operation, she removed his bandages and witnessed the moment that he could see for the first time in his life. Arif is now 13 and through the partnership of Seeing is Believing and Sightsavers, it was proposed that Joanna and Arif would meet and see each other again.
Although a global traveller, Ran was visiting Dhaka for the first time. His ability to raise significant sums for charity has become a hallmark of his expeditions. In 2012, he was named as the UK's most popular on-line fundraising platform by the web-based, service company, JustGiving. In 10 years he had raised over £14 million for a number of causes (including the MS Society, Breakthrough Breast Cancer, The British Heart Foundation and Marie Curie Cancer Care). Standard Chartered, saw the potential of an association with Ran and, when The Coldest Journey was conceived, presented Seeing is Believing as the worthiest of causes for the expedition to support.
As a colleague of Ran's and Co-Leader of The Coldest Journey, I was generously invited along. Whereas Joanna and Ran could draw attention to the problems of avoidable blindness through their well-earned reputations and interest in the subject, I was rather less useful but very eager to help! Having worked alongside Ran on many projects in an administrative role, I consider myself to be a useful "also ran"! Notwithstanding the purpose of my presence, I can claim to have had the honour of visiting Bangladesh in 1974 when it was a brand new country. Some colleagues and I delivered two 57 foot shrimp trawlers from Wivenhoe in Essex to Chittagong. The 14,500 mile, journey around Africa and across the Indian Ocean took us four and a half months. The small boats were a gift from the British government. My memory of the country was that, despite the very great poverty and overcrowding, we were welcomed with friendliness and great hospitality – characteristics which are very much in evidence today.
We flew to Dhaka with a small group of journalists and a camera crew. Through our shared experiences we soon became friends. Ros Powell, Senior Features Writer at HELLO! and Laura Topham, Deputy Health Editor for the Mail on Sunday were joined by World Television Executive Producer, Paul Ver Bruggen and Director of Photography, Ben Foster. We were very ably herded about Dhaka by Ben Cummings of WSM Communications. Our wonderful host was Jeanette McKenna. Jeanette is Head of Seeing is Believing and Health Programmes at Standard Chartered.
I live in sleepy Suffolk but I regret that I didn't sleep on the plane. When we got to Dhaka, the contrast in almost everything was tangible. It hits you like a body blow. It was humid, noisy, crowded and chaotic. It seemed to me that the traffic is gridlocked around the clock. Drivers blast each other with their horns at every crawling inch along the road. Ancient rickshaws and battered three wheeled "baby taxis" jostle for position with corrugated, polyfillered, gaudily decorated and totally wrecked busses. There are even some old double-deckers which, I imagine were once London Routemasters. But, over the years, a succession of inexperienced panel-beaters has thrashed them out of all recognition (except that they are still red in places). Some aspects were all strikingly familiar to my visit 40 years previously. Only cars had increased in number – mostly silver, Japanese models sporting dents and balding tyres – all blasting away, nose to tail, filling the heavy air with the less-than-delicate aroma of exhaust fumes. It was easy to look and shake one's head in disbelief. It was disturbing – no doubt. But so are many of the conditions that confront the long-suffering population of the country. Surprisingly, to me, we learned that Bangladesh is thriving. Standards are improving. The country is growing and largely unaffected by the global recession of recent years. The problem is that their start point is so low; they have a mountain to climb to reach real economic strength. With a population of somewhere around 160 million and growing (it was nearer 70 million in 1974) the profound difficulty of lifting standards across the population was very apparent. A simple example is the condition of the roads. It very quickly became clear that it was unwise to sit on the back seat of the minibus. The jolting over the back axel caused a number of us to feel very queasy. As a sailor, I didn't mind too much but it would have been helpful to wear hard hats. With so much traffic clogging the cratered roads, it is virtually impossible to repair them. If you wanted to set up a detour in order to dig up the crumbling tarmac, it would only make matters worse. Dhaka would become irretrievably locked in a continuous blast of horns and toxic emissions until the fuel ran out and batteries went flat. I really do not envy the civic planners!
When we set off on our first day to visit a 'pop-up' Patient Screening Programme at a medical centre in Hazaribagh, our vehicle merged into the traffic like a rubber raft joining a turbulent river. We bounced along in the chaotic stream of traffic but, before long we were stopped in a log jam. Faces pressed to our windows. Comics, flowers and other unspecified items of limited value were pressed to the smudged glass in the hope that we were in a buying mood. It is hard to ignore. But, ignore it you must. Alone we couldn't save everyone. But, together and in an ordered fashion there is a vast amount that can be achieved. Seeing is Believing is evidence of that.
The clinic was in a relatively quiet, dusty un-tarred side street of small shops held together with sheets of corrugated iron and weathered canvas. The Ophthalmic team had moved into a more solid building for the day to process patients in the area. Different rooms provided specific services – registration, consultation, counselling, dispensary, eye tests and waiting. There were plenty of patients waiting patiently, quietly resigned to the difficulties of administering such a massive turnover. In one room a couple of technicians were assembling glasses as fast as the constant demand would allow. In one day, as many as 500 people of all ages would pass through this extraordinary facility which was no bigger than the surgery in the local market town at home. It was packed but peaceful. I was reminded of the A&E unit of my local hospital in Suffolk, particularly during the weekend nightshift when troublesome, drunk and disturbed down-and-outs are apt to show up and get aggressive in the waiting room. Here, there was no aggression. Everyone seemed to understand the shortcomings of the system and to be grateful for the service.
From the moment we arrived, Joanna was involved. She took a deep interest in the process of medical assessment and treatment. She met numerous patients and, through an interpreter, heard their stories. We saw virtually no Europeans while we were in Dhaka. Joanna's fair complexion and hair were a natural focus of attention. Although Ben, the cameraman, worked without lights, Joanna appeared to be illuminated amongst the melee of locals. Ran, too, was drawn into the throng of brightly coloured sari and lungi. I lingered outside for a while. A growing crowd of, mainly, small boys was gathering. They wanted to shake hands and be photographed. We laughed together as we studied pictures of them studiously peering into the lens. "More, more" they wanted more pictures. I snapped away, parents looking on with benign smiles. It was hard to comprehend where everyone lived. Were they all local? How did they get to the clinic? How did they know it was there? I'm sure I don't know but I could see that, in its way, the system worked well and, as I dallied with the children outside, happy patients were departing, clutching spectacles and smiling.
The rainy season was over. Monsoon weather ends in July. But, not this year. By mid-afternoon the sky was dark and glowering. As we headed off at snail's pace to our next encounter, the heavens opened and rain chattered on the roof of the minibus in torrents. All around us were rickshaw riders, pedestrians and shopkeepers, drenched, dripping from nose and chin and unperturbed as they waited for the blocked pavements and roads to let them through. Lakes of water filled every space. Storm drains seemed not to work. Our minibus, which at the best of times behaved like a storm tossed boat, was now truly at sea! We steamed our way slowly across town to meet Shefali at her market stall in Ghuntighor.
Under the ubiquitous corrugated iron sheeting and tattered canvas, the market was only partially dry. Streams of water cascaded through holes in the roof, passed around, through and inside the electrical fittings hanging from cords in the ceiling. The lights flickered and thunder rumbled. Shefali, looked serene sitting amongst her vegetables on the floor. Other stall holders selling spices, fish, eggs and the most basic kitchen utensils looked on calmly. Joanna and Ran sat with Shefali and heard her story.
Shefali Begum moved from the country into Dhaka with her family for a better life. Tragically her husband Yusuf died and left her as the sole breadwinner. However, steadily worsening cataracts were making it impossible for Shefali to perform even simple tasks. Her children were no longer visible to her. By chance, she heard of an 'eye camp' to be held nearby. She attended and was diagnosed with advanced cataracts in both eyes. She was sent to Salauddin Specialised Hospital for surgery, a partner NGO of Seeing is Believing and Sightsavers. At 48 years old, Shefali is now back at work with her vegetable business. Her sight is restored and she actively promotes the Dhaka Urban Comprehensive Eye Care Programme and educates people to take care of their eyes. As if by arrangement, as we left, the rain stopped. Shefali grabbed three cucumbers. With a blunt knife she made a passable effort at peeling them and very generously gave them to Joanna and Ran. We climbed back into our minibus, pondering the significance of our experiences which, like a concentrated drink were beginning to make us reel.
By now the day was well advanced. Since we arrived early that morning, we were beginning to feel the effects of jetlag. It was time to get back to the hotel and take stock of the situation. Over two hours in our minibus and just five kilometres later, we pulled up at the hotel door. Our colleagues in the other vehicle were less lucky and took a half hour longer!
The next day, we were up and ready for action at 08.30.  The Ispahani Islamia Eye Institute and Hospital (Islamia) was established in 1958 by the late M A Ispahani, an industrialist and philanthropist. Originally a charitable dispensary, in 1960 it expanded into a hospital. Since then it has developed and grown into a highly regarded and wide ranging provider of ophthalmic services. Such is its standing in the Indian sub-continent that patients and researchers come from neighbouring countries for treatment and to develop new techniques. As an educational establishment it has trained hundreds of doctors to do specialised surgery and investigative techniques. The hospital treats some 1,500 to 2,000 patients per day. Of these, around 100 will have sight-restoring surgery. With over 200 beds and 85 doctors, this impressive institution is really having an impact on the problems of sight disorder. Dr Steven Roy, a South African, is the chief executive officer. He showed us around the uniquely shaped building which resembles an eye, with circular central part surrounded by wings, like lashes, containing wards, operating theatres and administrative facilities. The building is set in a large park, unusual for central Dhaka, which, in turn, is the proposed site for extensive future development.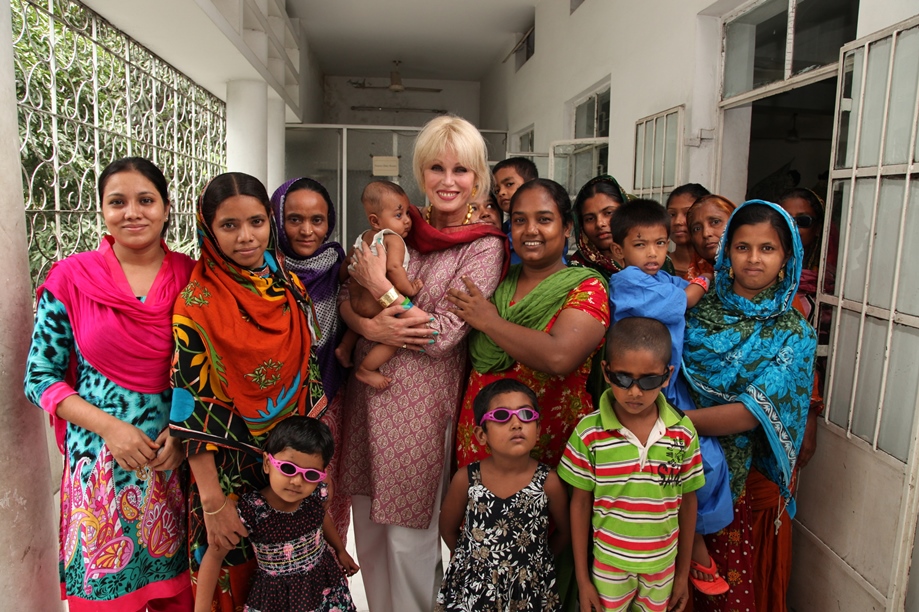 We visited the children's ward, a large room with dozens of wobbling fans spinning over the beds and mattresses spread on the floor. It was tranquil. Mothers sat peacefully with their offspring, waiting for surgery. Three young patients were ready to have their bandages removed following their operations. Both Ran and Joanna, gently helped to remove the dressings, revealing blinking surprised little faces, with eyes like black buttons scanning all around at the myriad of images, colours and shapes that confronted them. It was spellbinding for everyone. Within seconds, the delicate eyes were protected behind dark glasses of dubious fashion. One little boy looked so cool in his black rims. A little girl looked less chic in, what appeared to be purple, heart shaped frames. Nevertheless, their eyesight was restored. Their chances in life suddenly improved beyond measure. And what does this cost? Dr Roy explained; the poorest patients pay nothing. Patients with the ability to do so pay a modest sum. Richer patients pay more. Thus, the richest few support the poorest many. Having said that, the charges are very modest by western standards.
During our visit, a fine young man with his mother joined us. Arif, now thirteen, and Joanna greeted each other like old friends. Arif's father, Abdul, is a rickshaw driver. His mother, Someza, looks after their three children. Their average monthly income is around £18. When, at the age of two and a half Arif was diagnosed with cataracts, his future looked bleak. He couldn't see his parents and the world around him was nothing more than an opaque blur. However, he was too young for treatment and it was only when a Sightsavers worker spotted him a couple of years later that he underwent corrective surgery. Today Arif is a student in Class 6 at his local school. The opportunities that surgery has given him means that he can now fulfil ambitions like any teenager without the debilitating handicap to which his blindness would have condemned him. Joanna gave him a football shirt. His face was alight. It is something special when a simple gesture binds people from such different circumstances. In contrast to the terrible events in the war torn Middle East, here was human interaction at its very best.
From Islamia, I went with Jeanette to visit the National Institute of Ophthalmology (NIO) while Ran and Joanna remained behind at Islamia to meet members of staff. The NIO is a state run facility in the Agargaon district of Dhaka. Here, the medical and surgical teams provide a wide range of eye care services including paediatric ophthalmology. Recently, Sightsavers has supported the creation of a child-friendly out-patient department. We met Professor Enayet Hossain, head of paediatric ophthalmics. We sat in his small office, drank sweet tea together and learned about the complications as well as the great advances that result from the pressures of such intense work. The unit has ten medical professionals including four skilled ophthalmologists and a growing number of trained ophthalmic nurses.
I cannot deny that the experiences were both moving and inspiring I cannot deny that the experiences were both moving and inspiring. I am profoundly grateful that I was invited. It was absolutely clear to me that the enthusiasm of the many thousands of employees of Standard Chartered around the world was well placed.  . Alongside the passion, is the level headed, business-like approach to the problems we saw which results in effective and lasting solutions. The Bank is clearly committed.
What little time that remained in this brief but condensed visit was filled with discussions and interviews with our fellow travellers and representatives from the local press. Our generous hosts from Standard Chartered's Bangladesh head office entertained us to a delightful dinner. Around the table, it was clear that we all shared the interest in developing and enhancing the work of Seeing is Believing. Our insight was limited to the work being carried out in Dhaka. The charity, however, is equally active around the developing world and, to date, twenty five countries have benefitted from Seeing is Believing projects since 2003.
It is a quaint irony that our expedition is so remote from the problems of sightlessness locked away as it is in Antarctica. But, The Coldest Journey does have relevance and an analogous purpose. By wintering in Antarctica, Brian, Ian, Rob, Spencer and Richmond have travelled through perpetual daylight into perpetual darkness. For three months the darkness has been complete. As they wait for the sun to rise over the horizon and for light to flood their world again, so too do our newly encountered friends, young and old, who are also waiting patiently in their clinics in Dhaka and around the world.
The expedition, however you measure its successes and failures, is entering the last chapter. We are not there yet and many challenges remain as the team prepare to travel back over the crevasse fields that so hindered them when they set out in March. Their enthusiasm for Seeing is Believing has been a significant force in keeping them focussed on their work and a compensation for the discomfort they have endured over the past seven months. We are all impatient to see donations turn from a trickle into a flood – think "Monsoon"! If you have enjoyed (and continue to enjoy) following the expedition story from the days aboard the SA Agulhas to daily life in Antarctica and even recent accounts of swimming the English Channel on our blogs, please, please consider making a donation to Seeing is Believing. Time is now running out for our campaign and we so much want to reach our target. Don't forget that, for every pound, dollar, euro, rand (or whatever currency you give) Standard Chartered will match your donation! With over 10,000 'likes' on Facebook and many thousands more followers around the world, a donation from everyone, whatever the size, will be used directly to help people like Arif and Shefali gain sight and enable them to make their own contribution to society.
I've been home now for a few days. We are having a bit of an Indian summer here and it is sunny and warm. Over the weekend I found myself nodding off in the garden. It must be the jetlag. I'm not at all complacent. I'm the luckiest man alive but I can't help thinking about my two days in Dhaka. I'd like to go back sometime. In the meantime, I'm going to foster the memories and try and do something to help all those committed to Seeing is Believing – such a worthwhile cause. Please join me.
See: www.seeingisbelieving.org for more information and to make a donation, you can click here.  – Thank you
Best wishes,
Anton