Another Night to Remember
The sky above London was clear last night but you couldn't see the stars because, ironically, they were obscured by the festive Christmas lighting (electric stars – no less!). It was unseasonably warm too – an unusual combination, so at odds with Antarctica where, it has just been revealed, the lowest ever recorded temperature was experienced in July of this year at -93⁰C. That is well over 100⁰C colder than the temperature in London last night!
It is hard to imagine what such temperatures would feel like and, had our intrepid team managed to travel the 4,000 kms across the frozen continent, they may well have been the first people ever to encounter such terrible conditions first hand. I can only say I'm glad they didn't, and by surviving their experience it was a pleasure to see Brian and Ian along with other members of the expedition support group at St Paul's Cathedral last night for a carol service in celebration of the 10th Anniversary of Seeing is Believing. Richmond, Rob and Spencer were attending to other duties elsewhere.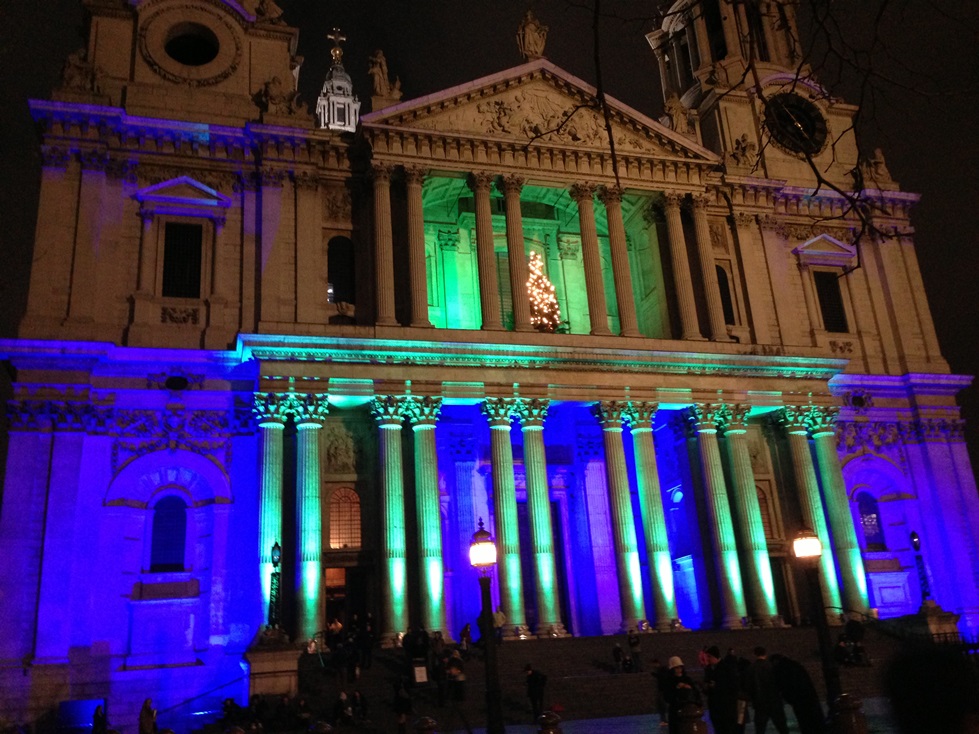 It was a spectacular and moving occasion. The cathedral frontage was flood-lit in the distinctive Seeing is Believing blue and green. A large congregation filled the nave, aisles and transept. Our party sat under the dome, gloriously bathed in sound from the cathedral choir and the magnificent Grand Organ (parts of which date back to 1694). Her Royal Highness The Countess of Wessex was guest of honour and she read beautifully, an extract from Isaiah (chapter 42 verses 10-16 "Sing to the Lord a new Song…"). Our trustee, Joanna Lumley read "The Oxen" by Thomas Hardy ("Christmas Eve, and twelve of the clock…"). After a hymn or two and a rendition of "In the Bleak Midwinter" by The Military Wives choir of Chivenor, actor, Hugh Grant, read an extract from "Cider with Rosie" by Laurie Lee followed by Ran Fiennes reading from the last expedition journals of Robert Falcon Scott ("Sunday, December 25, Christmas Day. – Dead reckoning 69⁰ 5' S., 178⁰ 30'E…"). It was a wonderfully eclectic mix of words, each with a message and a touching reminder that we were here to celebrate the work of Seeing is Believing which has so miraculously changed the lives of the many thousands of people, young and old, in other, far away, parts of the world who were blighted by the effects of impaired vision and blindness. We had every reason to celebrate and to support the continuing work of this inspiring charity. For a minute or two everyone in the cathedral lit a candle and stood as the electric lights were dimmed. As one, we all blew out our candles and the massive building was in darkness and still – a profound reminder of our purpose.
Joanna Lumley and Hugh Grant read an amusing version of "The Twelve Days of Christmas" from "Mirth without Mischief" with added extracts from letters written by John Julius Norwich. The choir provided the traditional words and music.
Another carol… "Oh Come All Ye Faithful" and it was over. We filed out into the starless night. There was much embracing and exchanging of "Happy Christmas" among the emerging congregation. Our small group went to a wine bar and continued to enjoy the evening in each other's convivial and very enjoyable company. Our experiences over the past year have welded us into a big family. It was a fine start to the forthcoming festivities.
It is still very possible to support Seeing is Believing. Although the expedition is over, the work to restore sight goes on day after day. Your generosity at this traditional time of giving would be much appreciated – not least by those whose lives could be transformed with simple and cost effective treatment.
Go to: www.seeingisbelieving.org to make a donation.
Happy Christmas from us all at The Coldest Journey