TCJ EDUCATION NEWSLETTER – SEPTEMBER 2013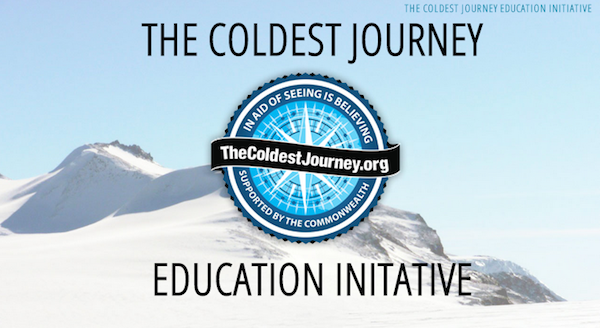 Current Location: S72 51′ 13.5″, E023 33′ 50.2″
Welcome back to all the schools subscribed and following The Coldest Journey.
First of all, the entire Coldest Journey team are extremely pleased to announce that our Seeing is Believing fundraising total has now passed $1 million. Just a few weeks ago, Sir Ranulph Fiennes, Joanna Lumley and Anton Bowring visited Bangladesh to witness some of the excellent work that Seeing is Believing is doing.
We would like to say a massive "THANK YOU" to everyone who has supported our cause so far. We really are making a difference to many thousands of peoples lives.
So what have we been up to over the last two months while you have been away?
Expedition news update:
The expedition has been encamped at its current location of S72 51′ 13.5″, E023 33′ 50.2″, 2,752m above sea level, since May. Much of this time has been spent in complete darkness, with the team finally catching their first glimpse of the returning sun on 6th August.
As the spring equinox, on 21st September, approaches and the end of winter is in sight, the five ice team members are continuing their scientific studies whilst waiting for the opportunity to return north to the Antarctic coast and the completion of the expedition.
More recent news:
Although temperatures have been creeping up into the mid -30Cs, the relentless winds with gusts of over 50 knots have seen the team confined to the vicinity of their living caboose with no real chance of starting preparations to move until the winds ease.
What Lies Ahead?
The team are currently working determinedly to get the Caterpillar tractors de-iced, warmed up and ready to move, a process which could take two or more days. They will then need to reassemble the ice train with its many components, before they are ready to venture north.
Once on the move, the team will have to re-negotiate the treacherous blue ice and crevasse fields that caused them so many problems on their way south. Although the location of these areas are now well known by the team, crossing them safely still presents a great challenge and a cause of considerable anxiety.
Infographic
A newsletter with a more visual infographic update to show to your school can be found here:
https://www.thecoldestjourney.org/blog/tcj-education-updates/tcj-infographic-september-2013/
From now on you can find all of the most recent & exclusive updates from the expedition within the 'TCJ Education Updates' folder which can be found here:
https://www.thecoldestjourney.org/blog/tcj-education-updates/
In other news:
We now have a TCJ shop where you can buy merchandise. In the coming days we will inform you on how you and your school can buy & sell merchandise to raise funds for our chosen charity Seeing is Believing.
You can find it here:
http://shop.thecoldestjourney.org/
Finally,
Do your pupils have a burning question they would like to ask the Ice Team?
What do they eat? Where do they sleep? What is a crevasse?
Email us at education@thecoldestjourney.org with:
The question
The name of your school
The name & age of the pupil asking the question.
Every week we will get the Ice Team to answer your questions, which will be posted in the following newsletter. There may even be a video to accompany the response on occasion.
Best wishes
The Education Team
The Coldest Journey