Ferrari Sends Tris into Top Gear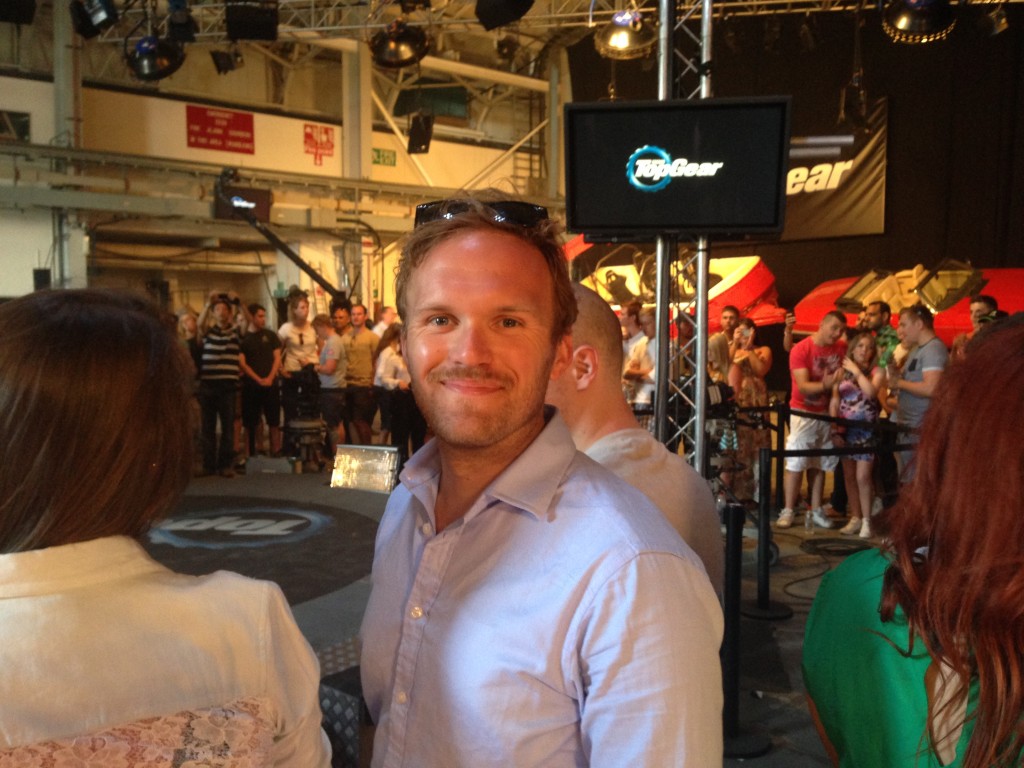 Thank you to Doug Quelch of Amber Promotions for arranging for Hugh and me to visit the Top Gear set to see the filming of one of the new episodes. What an awesome day it was.
As someone familiar with technical projects and working within engineering, I am no stranger to the bait-room posters of Ferraris and 'Lambos' that are a staple and traditional wallpaper of the UK industry (<cough> and a safer alternative to the ruder images available). I, however, deny myself. I have a secret passion for gorgeous, precision engineered and powerful cars that I have forced to the back of my mind, sat on, locked away.
Such beautiful feats are usually petrol hungry, extremely expensive – a mortgage for a house would come first, with family second and third on my (girlfriend's) priority list – and costly to maintain. Totally unrealistic. I have closeted my desire and lost the key, on purpose. At least until the moment I entered the hangar.
Seeing a 458 Spider in the Top Gear studio changed everything. The venue itself is a monument built to draw the petrol-headed flock, a shrine to the antics of the presenters who appear to lead a charmed life of travel and opportunity in the name of popular entertainment. The messianic form of the Stig hangs above from the aluminium clerestory, bathed in worship from the hundreds of millions of fans around the world.
The Ferrari family is no stranger to such adoration and the 458 is one of their most recent children. In the carbon fibre and leathered flesh, this machine is an inspiration. It. Rocks.
For a human that is passionate about design and appreciates detail, the 458 hums like a tuning fork in A. Only an Apple chorus and an Eames embrace have the same tingling effect. Occupy the same space as such items and you cannot help but be drawn to their sculpted, balanced surfaces. Thronged in the Top Gear studio by similarly hypnotised admirers, the 458 had a gravity. A dark energy that occupied the space you couldn't see. Because of Top Gear I will now spend the rest of my life in full awareness of the lack of a 458 in my life. Thank you Top Gear for awakening that pain.