"We are alone now" – by Brian Newham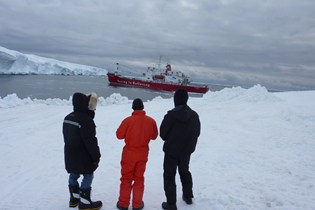 There are certain moments in life that are so hard to describe that it is almost futile to try. What happened here just a couple of hours ago was one of those moments.
Last night's party was a great oc…casion but this morning the stark reality of what was about to happen overwhelmed everything else.
Farewells were extremely hard as friends that had helped so much to get us this far offered heartfelt best wishes and kind words that will linger in the mind during the months that are to follow.
We shot some film and said a few words to the camera and then stood on the ice as a small group of six whilst those onboard hung over the bow. Slowly the ship eased back away from the ice and the ship's horn sounded long and loud and marked the moment when we felt that this was now the point where the true journey begins.
Waving figures slowly merged with the outline of the ship as she headed out into the bay. There was a calm silence amongst us all, each with our own thoughts. The ship has gone and with it the link to the outside world.
A slow quiet walk back to our home and our world has changed so much in that short space of time that it doesn't seem right to just pick up where we left off. We agree that the rest of the day should be relaxed and easy. We need to adjust and I think we all need a bit of time to reflect.
Typically, and in good British fashion, we have a cup of tea to ease the tension and divert the mind.
We are alone now.