"Life Goes On"
By Ian Prickett.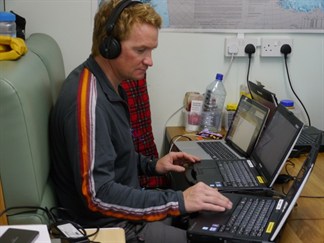 Many people out there may well believe that The Coldest Journey is all but over due to the injury Ran sustained whilst skiing and his subsequent withdrawal from the expedition. For five people still in Antarctica, it is far from over.
We are still giving our all towards being the first people ever to cross the continent in winter, something never before even attempted. We are determined to do it.
We are now well and truly alone on the ice with literally no-one within hundreds and hundreds of miles – and absolutely no way out. Nearly all of the main Antarctic research stations around the continent will be either shutting down for winter or removing most of their staff, leaving only a skeleton staff of merry men and women to keep things rolling throughout the long, cold and dark Antarctic winter. These lucky folk from all over the world are hunkering down in their country's respective research facilities, while looking forward to the mystical delights a winter in this harsh, barren land can deal you.
But we are a very different type of set up from the norm here: we have our own movable research station to look after, complete with science lab, research facilities, workshops, sleeping quarters and a living area.
Due to now being above 2100 meters, along with the Antarctic sun being with us for less and less time each day, our living caboose is an essential piece of the puzzle if we are to make this crossing in winter. Since leaving the coast, which seems like an age ago now, we are slowly getting used to our home for the year and her positive and negative points. We are continually adjusting and adapting things to make our lives easier for when things get really cold (i.e. not just -30C cold, but really, really cold!).
Now, I'm a glass half full kind of chap… We are all well aware that none of us would be here if it wasn't for the vision and determination of Sir Ran Fiennes. However, we have to look at the benefits to his departure!
Firstly, more toilet roll.
Secondly, more space. It was very cramped a few days ago, but now the spare wardrobe and drawer have come in very handy for our expedition kit.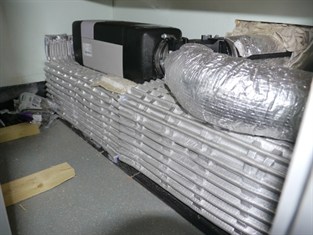 And there are other plus sides too. I have also just spent the morning insulating all of our Webasto heaters from the chill due to cold bridging (frost travelling through the caboose penetrations). To do this, I cut up and used Ran's expedition camping mat. He won't be using it now after all and it makes for exceptional insulation! Our Webastos draw air from outside to burn diesel, in turn creating a 24volt hot air heater. The problem being that the air we are drawing into our caboose is cold. If its -50C outside, which it will be for the majority of the trip, then it's drawing -50C temps into a small box inside our home. And that's where Ran's mat has helped. Now fully insulated and sealed from those extreme temperatures outside, we can sleep in relative comfort knowing we're not going to freeze to the beds during the night.
We are still experiencing trouble with the seals on our external doors, allowing cold air and blowing snow to encroach on our living area, so am just starting to wonder how we might use Ran's mattress strapped to the door!
The point I'm getting at here is that we are carrying on. Carrying on further South, carrying on attempting to be the first people ever to cross the Antarctic Continent in winter, carrying on delivering world class science and education and continuously carrying on improving where we are living. Any fool can be uncomfortable remember.