Joanna Lumley Interviews…Ian Prickett
1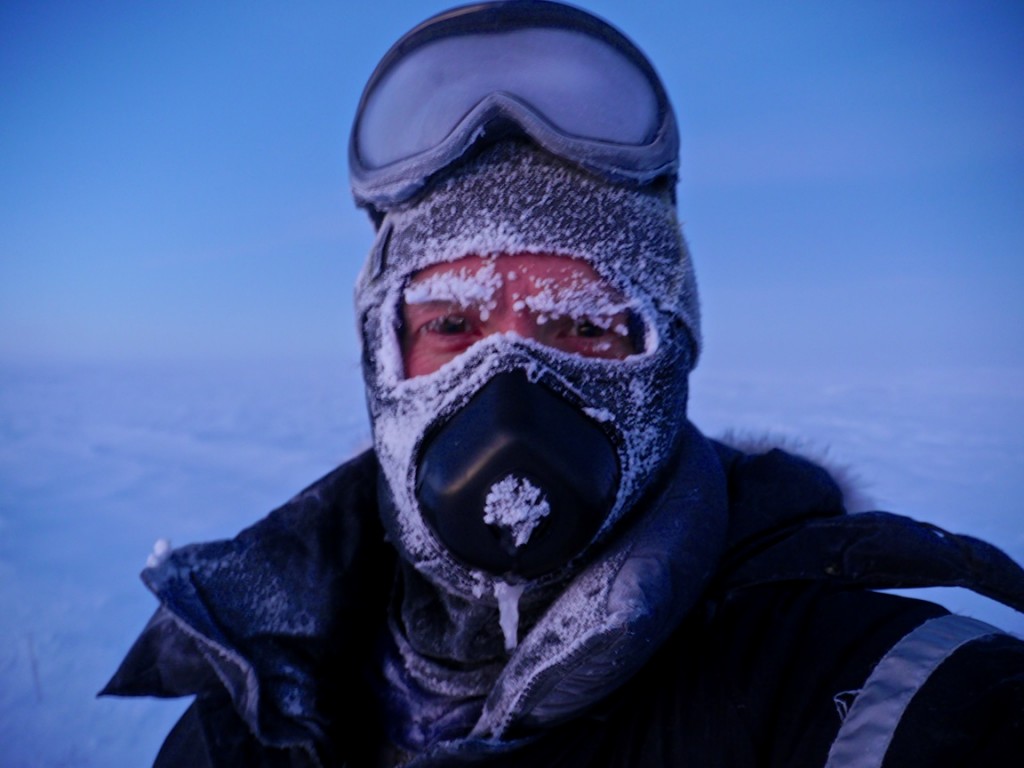 .  What was your favourite subject at school?
My favourite subject at school was always Physical Education.  I will be the first to admit that I wasn't the most academic of pupils during my school years and I much preferred running around a field or using my hands to build something.  When it came to sitting down and learning algebra I was the first one to make an excuse to try and get out of the room.  Often by the quickest means necessary and once through a window during one particularly challenging math lessen.
However, when it came to PE I would give my all, representing the school at various events and going on to represent the county in athletics and cross-country competitions.
2. When were you last afraid?
Being a rufty-tufty-explorer-type who has spent the best part of the last 10 years working in the Antarctic, obviously I'm far too thick in the skin to ever be afraid.
This is a lie, but don't tell my mates.
No matter what life you have led and where it has taken you, nothing will prepare you for a few months of trying to drive a 100-tonne tractor train over ice bridges and crevasses up onto the Antarctic plateau.  There were times when you would be traversing over totally flat terrain with no visible signs of upheaval, when the ice below you would just disappear and you would be looking into a chasm ranging from two to 20 metres deep.  I would generally be the person out walking in front of the train trying to find the flattest route possible and to hear the words "crevasse" or a mixture of expletives over the radio would always scare me.  Obviously the implications of one of our Cats or worse still, our Caboose dropping into a hole were huge and would never fail to put the willies up me.
3. Are you superstitious?  Do you have a lucky mascot or lucky charm?
I don't really think I'm that superstitious.  However, if you were to look in my passport bag, or around my bunk you would tend to disagree.  There are numerous trinkets that I have had for many a year during all of my travels around the world.  A four-leaf clover, a guardian angel birthstone, good luck penny, good luck messages from friends, kids, even a small magnetic monkey that sleeps above my head each night.  Even though I don't think I'm that superstitious, if someone has gone out of their way to give me a lucky charm or guardian angel, then who am I to criticise?
They have served me well to date.
4. What was your earliest ambition?
To be Adam Ant.  Wasn't that everyone's dream as a child of my generation?
When I was young I used to read stories of great adventurers or special force soldiers on missions around the world and I somehow wanted to be one of them.  I did apply for the Royal Marines as a 16-year-old, fresh-faced and wet behind the ears kid to try and kick start this, however I opted for my Mechanical Engineering Apprenticeship instead.  Who would have guessed back then that a few years down the line, I would be taking part in an expedition with "the world's greatest living explorer".
If you have dreams and passions and you work hard enough for these, amazing things can happen.  I'm from a small town on the southern coast of the UK, well away from the adventure hotspots of the country, yet I loved playing in the mountains, getting filthy on my bike and climbing up damp, soggy cliffs as a child.  I used to work two paper rounds to try and afford the Navy Cadet weekend camps which took me to these exotic places such as 'Wales' or maybe even 'Dartmoor'.   As a child I used to wonder how would I ever be able to get on an expedition to take me around the world, to amazing alien landscapes such as Antarctica?
With enough enthusiasm, willingness to get stuck in and maybe the odd slice of luck, you can go anywhere.
5. What is your biggest extravagance?
Due to the transient lifestyle I have led up until now, I don't have many items to my name that I can say are big extravagances.
I am a true believer that buying experiences rather than meaningless items, is, for me, a much greater use of my money.  Don't get me wrong, I'm not criticising in any way and if you enjoy buying a £600 new handbag and it makes you happy, then go for it.  I have saved as hard as I can for many years and travelled around the world on numerous occasions, visiting amazing countries with even more amazing people.  People who have absolutely nothing to their name yet they will take you in for the night and give you their only bed while their 90-year-old grandma, crippled with arthritis, sleeps on the floor with the rest of the family, refusing my endless requests to, "please get back in your own bed!"
That for me is priceless.
6. What has been your greatest disappointment?
Without a shadow of doubt, not making the traverse has been my greatest disappointment.  We tried our best with the equipment we had, yet this time, unfortunately, it wasn't quite up to the task.  I gave up two years of my life in assisting with this amazing expedition and I worked exceedingly hard, along with many others, in trying to have the best equipped attempt that we could put together.  Unfortunately, as you know, the traverse was unsuccessful and we now find ourselves awaiting a window to head back towards the coast after failing in our main mission.
7. How physically fit are you?
I'm certainly not as fit now as I was a year ago!  Unfortunately, wintering over in a tin shed on top of the Antarctic plateau for the past few months has restricted the amount of time I could get outside and train.  We are currently camped alongside a huge expanse of blue ice at just below 3000m.  Blue ice occurs due to constant winds that are so strong they scour away the layer of snow and polish the glacier below.  In the past 3 months I can count on 1 hand the amount of days the wind has been below 10 knots.  At -50C with strong winds, it limits training time.
I have, however, built myself a mini gym in the entrance lobby of the caboose and each day I will work out for a few hours trying to keep my fitness levels from dropping even more.  Hopefully, when we begin the big dig-out soon and head north once more, I will be able to get outside skiing, man hauling and what I have been missing the most, some decent snow kiting!  That should bring the fitness levels back to more appropriate levels for my return home.  The plan next year is to start some triathlons, so if I'm going to give the Brownlee brothers something to worry about, I better start working now!
8. In what place are you happiest? 
I am a bit of a beach bum, sun and heat worshipper (strange to live a life in the Antarctic you say?).  Even though I have only seen the sun for the past few weeks after three months of darkness, my enjoyment comes with the sun.  The reason I enjoyed working with the British Antarctic Survey for these past 10 years has been due to the fact that I can run away from the damp, cold, miserable winters of the UK, and work for four months in 24-hour sunshine!  Working in the Antarctic then gave me the strange desire to winter over and leave the sun for a while.
However, away from the cold, lying on a beach in the sun, with my girlfriend, plus my kitesurfing kit with a cold beer in hand, that's quite a happy place.   To be honest, outside would be my answer.  In the hills somewhere, on a beach, in my camper van.  Outside in the fresh air, enjoying life.
9. What is the most beautiful thing you have seen since arriving in Crown Bay in Antarctica?
There are two moments which spring to mind straight away which are very different, yet very hard to choose between them.
One of the reasons I have wanted to winter on the Antarctic for so long was to see the Aurora Australis, the Southern Lights.  We haven't seen as much as I was hoping for due to not getting as far south as we would of liked, along with the winds keeping the visibility down.  However, in one of our rare moments of calm a few weeks back we were treated to a truly amazing, stunning showing of the Aurora.  The Milky Way was shining away in all her splendour with stars reaching from horizon to horizon in every direction and an early evening green glow had everyone outside awaiting the light show.  Watching these magical green wisps dancing in the night sky, was, for me, an amazing and truly beautiful experience.
The second incident is rather different.
It was at the end of our unloading, back at Crown Bay.  The ship had moved from its mooring and was out at sea due to a rough swell making it too dangerous to land.  We had moved all of our stores and equipment further up the creek away from the ice edge, which was a very good thing we did.  Brian and I were heading back to the crest of the ice to inspect the landing platform when, out of nowhere, the whole ice edge that only a few hours earlier we had been working on, collapsed in front of our eyes.
Whole blocks of the ice shelf, the size of houses, were breaking away in front of our eyes, creating brand new icebergs to add to the many already crashing around in the bay in front of us.  Watching this natural event in real time, with the ice crashing away in front of us where we had been working only hours earlier, was a truly powerful and phenomenal sight.
10. Who in history would you of liked to meet and why?
A few years back I was moving out of an old "friend's" house, having been kicked out.  When I was cleaning all of my stuff out of her room I handed a book over and said, "Sorry, I've been rubbish.  Read this and I hope it explains a little why I am what I am and why I do what I do."  It was Sir Ranulph Fiennes' autobiography.
Three years down the line and I have had the pleasure of being stuck in a tin box for three months with the big man; it was and still is a highlight of my career.
Another person I would truly love to have a beer with is Michael Palin.  A hilariously funny man who has made a career from travelling the world and making people laugh.  Maybe in another three years I could end up being stuck with him.
11.  Do you think you will ever go back to the Antarctic?
The very first season I worked for the British Antarctic Survey, I told everyone I had a "once in a lifetime" experience to go and work in the Antarctic.  I even had to miss my best mate's wedding (where I was due to be best man..whoops, his wife still hasn't forgiven me).  That was back in 2005.  I have worked every year since either in Antarctica, or one year when the season was cancelled due to engineering constraints, I worked in Cape Town for the year, organising equipment for the following season.  There is something strange and gripping about this amazing continent.  Some seasons you absolutely hate the place, being away from loved ones, friends and family, Christmas, weddings!!  However, when you finally come to leave, be it by ship or by plane, you are already missing the magic of the ice and you can't wait to go again.
The famous Polar explorer Fridtof Nansen once wrote,
'Strange. There is always sadness on departure. It is as if one cannot bear to leave this bleak waste of ice, glaciers, cold & toil….'
12. You have said before that raising money for Seeing is Believing was as important to you as crossing Antarctica.  What is it about the charity that appeals to you so much?
SIB is a great charity, helping to restore the site of millions of people throughout the world.  As I touched on earlier, I have spent a great deal of time travelling through countries where people suffer, unnecessarily, due to not being able to afford the cost of a cataract operation or something similar.  In my personal experience, it's in these countries that we class as "3rd world" that you meet the friendliest people on the planet.  You wouldn't walk through the streets of London and expect a random stranger to invite you back to meet their family and have dinner and a bed for the night, just to talk English with you, but this has happened to me on numerous occasions travelling.
I wanted to use my experiences in meeting these amazing people for the better and last year I applied to be a volunteer with another amazing charity called Shelterbox, a disaster relief charity helping displaced families all around the world in the event of natural disasters, war, or general displacement from their homes.
Raising money for Seeing is Believing, along with volunteering for Shelterbox, is my way of paying back these amazing unsung heroes from all around the planet, who have nothing, but will give you the world.
13. You've discovered quite a talent for filmmaking over there.  Any chance of a change in career when you get back?
The filming of the documentary as well as the updates for the website have been one of my most enjoyable parts of the expedition.  This was something I had absolutely no experience in before leaving the UK for the Coldest Journey yet with some great direction from the production company, along with my tried and tested formula of 'winging it', hopefully something good will come out at the other end.
It will be an amazing legacy for the trip to document everything that has happened, to show people the true nature of wintering over in a caravan on top of the plateau with four equally stubborn and crazed men.  The ins and outs of life, the mood swings and depression, the science, the relentless wind, freezing temps and trying not to go too mad.
14.  What do you do to unwind after a hard day at the office?
Normally, exercise.  I love nothing more than getting on my bike, pulling on my trainers for a run, or hitting the beach for some surfing or kitesurfing to unwind.  It clears my head, makes me feel great and sets you up for a nice cup of tea when you get back to the house to chill with the lady.