"Ice Team Back On Track as Sir Ranulph Fiennes Embarks on Lonely Voyage Home"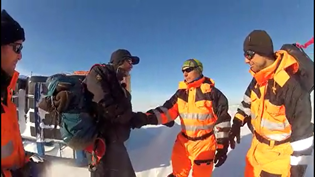 By Hugh Bowing.
After what seems like an eternity waiting for the weather to improve, Ran was finally able to begin his long journey home in the early hours of this morning. Despite winds still up at around 20knots and temperatures at -18c, he set off with a team from the Belgian International Polar Foundation who had managed to reach the Ice Train at around 6am their time (8am GMT).
The plan on departure was to take him to Princess Elisabeth Station from where he would leave with the Belgians by airplane to the Russian-run Novolazarevskaya Station (Novo), an Antarctic research station which has an airstrip, later this afternoon. Communications are very restricted now and we are waiting to hear that all has gone to plan. All being well, the group will fly from Novo to Cape Town late this evening, although given the nature of the ever-changing weather conditions out in Antarctica, nothing is certain. Upon arrival in Cape Town the priority will be for Ran to get medical treatment for his frostbite injury, before he flies back to the UK.
This afternoon Brian Newham, traverse manager, told me that the rest of the team were determined to make Ran proud of them by becoming the first people in history to cross the Antarctic in winter and issued an moving statement for the media. It said:
"All of us here know that without Ran's vision, commitment, hard work and years of effort that none of us would be here now. Ran's departure a short while ago marked another key moment in our journey and it was one that we never expected, but we are a strong and united team. We are as determined as ever to move forwards and to push the boundaries, and while we do so we hope that we will continue to inspire and to draw attention to our chosen charity of Seeing is Believing.
"Although Ran is no longer physically with us we carry his determination and incredible spirit forward and we hope that he will be proud of what we achieve.
"It is now only a few hours since we said our difficult farewells but we are already moving south and are poised to gain the polar plateau. Onwards."
I am sure I speak for you all in wishing Brian, Ian, Rob, Spencer and Richmond the very best of luck over the forthcoming months. We will be with them ever step, ski and tractor tread of the way.
Best wishes
Hugh, Operations HQ