Brightening Up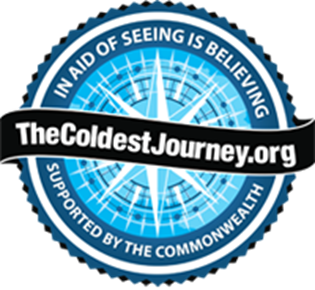 In his latest live TV interview, Ice Team Leader Brian Newham told Sky News' Sunrise programme that the weather was now starting to clear and that the team has been able to get outside to start the very lengthy progress of digging the Ice Train out from under four days of snow. Although he could not confirm that the expedition would begin as planned at 1200 GMT today, he nevertheless sounded upbeat telling presenter Eamon Holmes that there was still hope of making the start today, the March Equinox.
Back in the London studio, Eamon was joined by Sir Ranulph Fiennes and Anton Bowring who spoke of the extraordinary challenge ahead of the Ice Team and the entire expedition's goal of raising $10m for Seeing is Believing. The pair spoke directly with Brian over the satellite phone, with them both wishing luck and Ran telling Brian to "keep straight and level and not to fall into any of those nasty holes". Our sentiments exactly. (And if you are wondering what those nasty holes look like, check out the picture below.)
We are expecting regular updates from the Ice Team throughout the day, so please keep posted for latest news and images from the Antarctic.