Blue Ice and Mountains
By Brian Newham.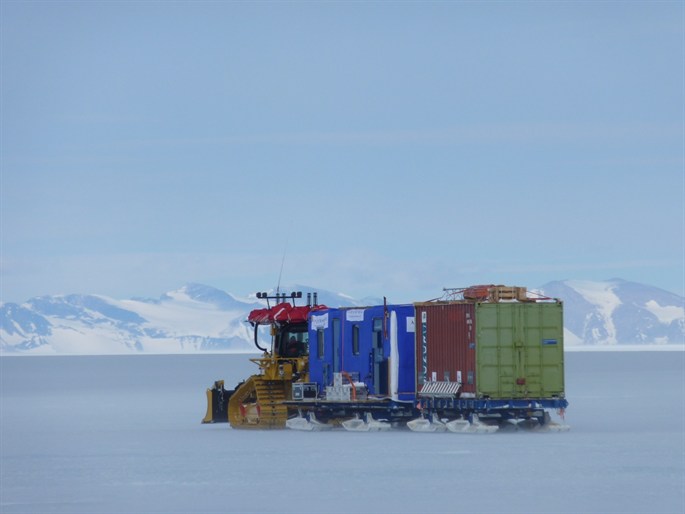 Yesterday was a long day and today isn't to be any shorter but we really want to make the most of the good weather. Despite a fresh breeze it is sunny with great visibility so we need to push southwards.
By late morning we arrived at an area of 'Blue Ice'. It's a term used to describe a surface that is just that – it's like an ice rink but with a few surface imperfections. They are widespread in the Antarctic and are generally found in areas of high wind, often amongst the mountains where the topography causes the winds to accelerate. These high winds stop the drifting snow from accumulating and the wind itself polishes the surface.
Our route today took us across one of these areas. It was only about 3km across but it was also on a gradual incline. We soon knew that the Cat D6Ns weren't going to have enough traction to pull our heavy loads. We had two options: fit some ice spikes to our tracks or split the loads and do the journey twice. In the interest of time we chose the latter. Even so, it's not a quick operation and we lost a couple of hours. On the far side of the Blue Ice area we reassembled the Ice Train and as I write we are pushing onwards towards the mountains which are now looming large. We have passed out first nunatak – an isolated peak which is sticking out of the surrounding snowy landscape. It's dramatic scenery and the scale is just enormous. The nunatak looks as if it's a short ski away but the reality is its over 10km.
We have been climbing pretty much continually for the last few days. It's almost imperceptible at times but slowly and surely we are making our way up to the plateau which will lead us to the Pole. We are now at nearly 900m above sea level. 2000m to go!
Tomorrow we expect several steeper climbs so it's likely we will be ferrying loads again. Meanwhile, if you want to see where we are, and you missed the link a few days ago, have a look at ;
http://yb.tl/thecoldestjourney
(tip ; when you have loaded the page zoom right out so the map appears, then you can zoom back in. Click the box top left next to 2648 and our track will appear )
The link to this map is available on this website.