21 miles, a million jellyfish and four skimpy pairs of speedos
Last year, in a moment of madness Tris and I agreed to join a couple of others to do a relayed swim across the Channel in aid of Seeing is Believing. Well, the moment has nearly arrived and in two weeks our "window of opportunity" opens up. From August 20th we will be on call and ready for action; as soon as a slot appears Tris, myself, my brother Guy and Rob "The Torpedo" Dunnett will all head to Dover and get cracking, with the first two swimmers likely to be doing their first hour-long stints in pitch darkness. It will then be 21-miles as the crow flies to the French mainland, which we hope to complete in about 16 hours – give or take a further three or four.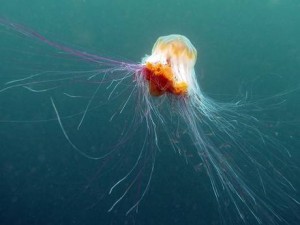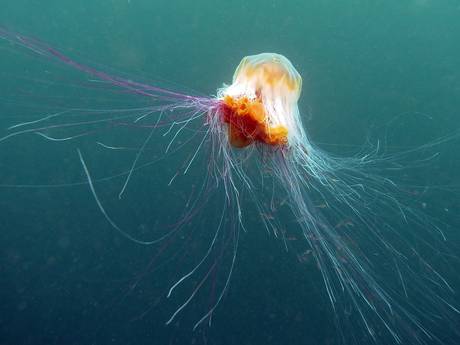 To prepare ourselves for the challenge we have been doing everything we can from braving the chilly waters of Highland lochs to the methodical up and downs at our local pools. However, news last week that the UK seas have seen a 20-year high in the number of jellyfish is less easy to come to terms with (see picture). Add to that the seaweed, sewerage, floating fridges, cargo carriers and everything else which makes its way into the Channel, am sure we are going to have a lot to take our minds off the pain and exhaustion on the day itself.
The swim is our effort for the Challenge Yourself campaign which we have been promoting through our website and Facebook. Through the campaign we are calling on you, our followers, to get involved by thinking of your own challenges and raise money for Seeing is Believing.
You can follow our progress in the last few weeks up to the swim and during the crossing itself via our Just Giving page: http://www.justgiving.com/Channel-Arm-Bandits/
And now for the plea part… Tris and I are not part of the Ice Team, obviously, but we have been supporting them every step of the way from the comforts of HQ and recounting their story to you from the beginning. If you have enjoyed reading our posts and updates, please show your thanks with a small donation. Every penny is match-funded by Standard Chartered, which means that a gift of £5 translates as £10. And if you can add gift aid on top, it is even more. You don't need telling that Seeing is Believing is an excellent charity, and one where even the smallest amount goes a long way to improving someone else's life.
Thank you for reading.
Tris and Hugh