Jack of All Trades
Geoff Long reports from aboard the SA Agulhas about his multi-faceted role within the expedition about leaving home, helping Ran find his kit and selling our story to the South Africans…
It seems incredible that it is only 12 days since I left the UK, shortly after the hectic run-up to Christmas and the associated mad rush around the country to visit relatives. So much has happened since landing early New Year's Eve on that sunny Monday morning in Cape Town. It had been a restless overnight flight full of a million thoughts of who I'd left behind, what I was about to experience and how I'd got to this point in my life. The crying babies on board had made me think of Josh, my little boy, who knew 'Daddy was going to see the penguins' and who could just about say Antarctica, but which came out more like Ant-artka.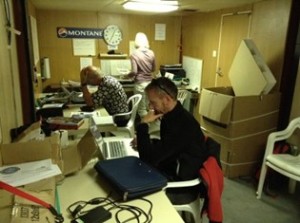 Education liaison officer and expedition mum, Jill Bowring met me and whisked me away to the SA Agulhas, lying at East Pier at the V and A Waterfront, Cape Town, with rat guards hanging on the mooring lines to stop any unwelcome visitors. It was lovely to see the ship in the warm sunshine, a million miles away from the cold of London at the December launch. Within a couple of hours I was back in the darkness, clambering around the inside of the expedition storage container, stowed deep inside one of the ship's holds. I was there to help Ran dig out some of the essential kit that he would need in the sled he would be pulling in front of the Caterpillar "land-train". My involvement in this project had already given me many great experiences and here was yet another…you could say I was just "doing my job" – but actually it had the makings of a real "boy's own" adventure; boarding a ship in a foreign port, climbing down the vertical ladders to the hold, framed by the strong steel ribs of this ice-strengthened vessel, to be confronted with an array of expedition kit and fuel. Then to spend an hour pouring over cookers, harnesses, snow-shoes and ice-axes with Sir Ranulph Fiennes, as he mused over what he needed, what he had used before and stopped frequently to recount tales of previous scrapes that he had got himself into and most importantly, out of.
As well as Ran and Jill, Expedition Co-Leader Anton Bowring, Ice Pilot John Parsloe and Ice Team member Ian Prickett were already around, with Ian making the most of his last few days with partner Gemma before they parted for over a year. Over the next few days more of the team joined us, most from the UK, some from elsewhere around the globe including Dr. Adrian McCallum from Australia. At first a stranger, now my room-mate and good friend, he's a glaciologist, ex-RAF navigator and experienced in Antarctic conditions. He was heavily involved in the initial plans for a winter crossing of Antarctica initiated 5 years ago and had been asked to help support the science programme on-board the ship and assist in the team's preparations prior to reaching the ice and as they set-up their base camp. Soon there were a total of 17 of us making up The Coldest Journey team heading south.
Due to the voluntary nature of this kind of expedition, most members of the team had other full-time occupations and commitments, restricting their involvement to date and as such there had been no occasion where we had all been together in one place. Even though that was still not quite the case, with Hugh, Tris and others remaining in the UK to provide a vital base back home, it was nevertheless the first time there was a critical mass of team members, where it would be possible to exchange ideas regularly, plan and hopefully create a cohesive group. Despite having certain specialities, members of any team like this must be multi-skilled or become so pretty rapidly, and sure enough Adrian and I soon found ourselves shifting from scientist and engineer to marketing and promotions, becoming affectionately known as the PR flunkies…
Although Cape Town was heaving with tourists still enjoying their holidays, unfortunately we were moored at a berth inaccessible to the public and so with a clear aim in mind to increase our profile at least locally in Cape Town and hopefully further afield, the PR flunkies set about advertising why we were in town. Posters were produced and distributed and we talked our way around town pushing the message about an amazing adventure which was unfolding only a few hundred metres from where we were standing. Soon we found ourselves talking to Lt Cdr Steven Bentley, Harbour Master to Cape Town, a real gent and as it turned out, existing follower of the expedition. His personal interest in the project helped enormously and he lent us office space, a reliable internet connection and put his professional PR team into action, resulting in a public event at the big screen at the waterfront, where we'd show the promotional video and the team would answer questions. Along with Jill, we also set about photographing and filming activity around the ship and Adrian introduced me to the world of Twitter as a good way of getting as many glimpses of the action out to you guys as possible (above, Geoff amuses himself on Twitter at a Cape Town).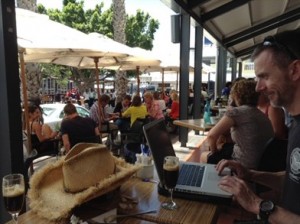 It was a fun, hectic, but hugely rewarding 7 days; a complete blur capped by the final send-off live on South African TV early on Monday 7th January, as film crews rushed around, helicopters buzzed overhead and last minute deliveries arrived for the ship and expedition. A stunning breakfast was laid out for ministers and dignitaries in the building alongside the ship, with flat screens showing promo videos and shots of the ice-team that I had handed them minutes before the presentations kicked-off. For most of the expedition team there was too much going on to enjoy the beautiful food and fresh coffee, but as we left Cape Town harbour, our thoughts of hunger and tiredness were replaced with the thrill of actually being under way and heading 4000km south towards Antarctica and the Coldest Journey on Earth.