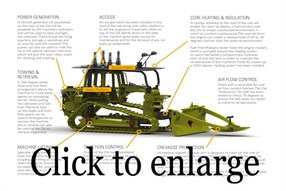 Creating the first machines capable of crossing the Antarctic in winter has taken hundreds of hours of bespoke engineering and design by some of the world's top-rated engineers.
Experts from Finning in the UK and Caterpillar in Grenoble combined knowledge and resources to meticulously re-engineer the two Cat D6N track-type tractors to make them capable of operating in temperatures below -70C.
Initially, the Caterpillar and Finning engineering teams worked together to identify the right machine for the task, forming plans and draft specifications based on the expedition team's requirements, such as machine weight and drawbar pull.
Caterpillar had already produced a large number of units working in temperatures as low as -40C so they were able to give Finning engineers a head start. In particular, Cat's design team had completely re-engineered the Cat D6N undercarriage units to keep the tracks rolling in temperatures as low as -55C. This involved the design and manufacture of special low ambient temperature components including rollers, idlers and final drives' seals.
The two Antarctic LGP heavy-duty undercarriage D6N models were supplied by Caterpillar and arrived in the UK in 2011, two years after Sir Ranulph Fiennes had approached Finning and Caterpillar for support.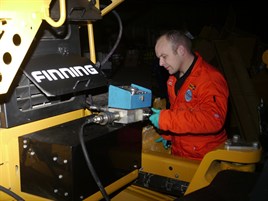 Having shared knowledge with the specialist Caterpillar team, the challenge for Finning was to further modify the units for The Coldest Journey. This involved pulling apart every element of the machine, fluids and components to analyse what could be done to ensure performance in harsh conditions and add vital safety measures, all whilst making sure the equipment could be easily and safely maintained in such extreme conditions.
Andy Thomas, Finning Design Engineer, said getting the D6Ns ready was the "ultimate engineering challenge" since no machine of this type had ever been exposed to the temperatures and harsh environment the team will experience on the expedition.
"You have to consider how every single component is going to operate, assess the potential issues to man and machine and create the safest possible solutions," he said.
"It has certainly been an incredible journey so far."
Hundreds of modifications have been made to the Cat D6Ns by the Finning specialist engineering team. Some of the key modifications include:
Specially designed fully insulated canopy with in-built escape hatch and access system
A complete central heating system for the engines and all fluids
Comprehensive insulation package
Cooling system air flow package
Extended and castellated grouser bars on the tracks for extra grip, including removable ice spikes to cope with climbing blue ice glaciers
Winch and towing attachment for pulling the cabooses
Combined crane and crevasse arm attachment on the blade
Other Modifications
Core heating, insulation and power generation
Electric heater pads for the transmission, hydraulic tank and engine sump oils.
Electric heater jackets for the batteries.
Engine block electric heater element.
Engine coolant-heated heat exchangers in battery compartment, hydraulic tank and fuel tank.
Fuel fired heater warms the engine coolant and pumps it around the heating system.
Thermal insulation in engine enclosure and other key areas.
Thermal tent fixed to canopy.
Hydraulically driven 20kVA Generator Set
Air Flow Controls
Reversible fan
Air flow control hatches
Endurance fan drive belt
Lifting, towing and retrieval
Lifting eyes on the track frames
Rear drawbar with 360 degree Pintle Hook
Front retrieval towing eye located on the blade
Crevasse protection and traction control
Castellated track shoe grouser bars
Ice spikes for blue ice
Crevasse arm/ Crane with ski assembly
Ground penetrating radar system
Access and Egress
Front Access Platform and Steps
Rear Access Platforms and Steps
Roof escape Hatch
"Bomb Door" type bottom guards for easy maintenance/repair access