Our Clothing page covers the clothes tested in during our cold chamber visits and during our field trials in Sweden. There is another layer of equipment that, whilst not clothing, will be used by those operating outside the vehicles at different stages of the crossing. We have included some of this equipment below.
Please note, what is shown here are examples, and is not the exhaustive list.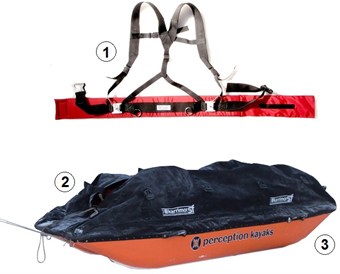 Pulk Sled System
This will be used by the skiers for the safety equipment and will also be used to tow the Ground Penetrating Radar system.
1. Snowsled Harness
2. Karrimor SF Bespoke covers.
3. Perception
pulk sled
Ground Penetrating Radar
This will be used for crevasse detection out ahead of the Ice Train. Supplied to us by Allied Associates Geophysical.
1. Antenna Unit – transmitter and receiver
2. Measurement wheel – used to match screen images to actual distance rather than against a timebase.
See BBC News website video from Sweden field trials at:
http://www.bbc.co.uk/news/uk-19601459


Skiing Equipment
A variety of equipment will be used depending upon the circumstances. Shown here is some of high quality kit supplied.
1&2. Leki ski poles in aluminium and carbon fibre
3. Scarpa TX Pro ski boots
4. Marker Duke bindings
5. Fischer E99 Crown Extralite skis

Remote Operations
We have to cater for the skiers overnighting away from the caboose.
1. PhD – sleeping bags – bespoke to us and probably the warmest bags ever made
2. Multimat Summit XL foam mat and Summit 25/38 self-Inflating mat
3 Terra Nova Quasar tent – with specific enhancements
Kiting
Snow kiting is becoming more widely used as a means to cover great distances for less effort. The conditions have to be right, but when they are, progress can be rapid. Ozone have provided the kiting system that will used by expedition leader Sir Ranulph Fiennes.
The 9m Frenzy canopy and control bar have been fitted with custom made lines to match the extreme conditions.
Kiting by moonlight in Antarctica is an experience few will ever have.
Page prepared by Steve Holland.