A two-man ski unit will lead the traverse, while the rest of the team follows closely behind in the Ice Train. The Ice Train is made up of two Caterpillar® D6N track-type tractors which will pull two specially developed cabooses for scientific work, accommodation and storage, including fuel designed not to freeze.
The Caterpillar D6Ns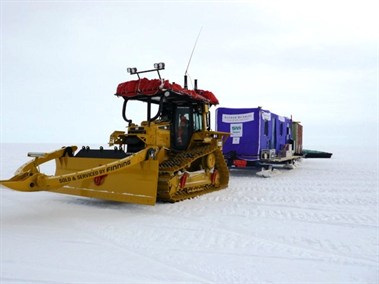 The D6Ns, supplied by Finning UK and Ireland, are hugely powerful and versatile track-type tractors. Each is equipped with a variable-pitch power angle/tilt blade, which can be used for moving snow, filling small crevasses and breaking down sastrugi during the traverse. They also have a winch and electro-hydraulic controls for general tasks.
The two 20-tonne D6Ns have been modified by expert mechanics at Caterpillar and Finning UK to help cope in the extreme weather conditions. This includes modifications to the core heating system, insulation and special materials to cope in the extreme cold. An irreparable breakdown will put an end to the expedition and put the team in jeopardy, so making sure they are fit for purpose before disembarking is key. Click here to find out more on how the D6Ns were modified.
During the traverse, one unit will follow the other, with the cabooses, sledges and fuel arranged to suit the terrain. However, when steep terrain or soft snow conditions are encountered, it may be necessary to double head the Ice Train (i.e. two D6Ns would tow one load, or split the load and do two journeys).
The D6Ns are covered each night with specially designed tented garages, which unroll from the roof of each vehicle. These help to keep the vehicles warmer and also allow for refuelling and any maintenance in a sheltered environment.
The D6Ns have been fitted out with bespoke cloud and satellite technologies provided by Microsoft and Iridium to enable real-time updates on the expedition's progress. One of the D6Ns has a Yellow Brick tracker installed to pin-point their location on a live map available through this website.
The Cabooses
From early February onwards, the Ice Team will live in the main living caboose, which consists of two 28ft insulated containers locked together and which provide four heated rooms/areas. External doors lead into the plant room and ablutions room on opposite sides of the structure. This allows a buffer zone before entering the warmer areas of the bunk room and living and eating area.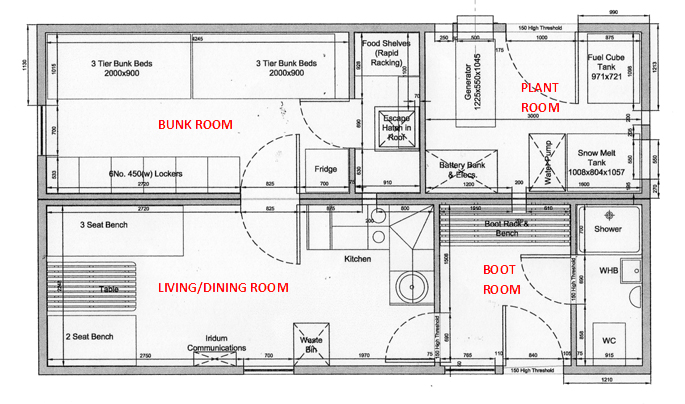 Above: Plan of living caboose
The second caboose is a single 28ft insulated container which houses the science and mechanical workshops and will also be a back-up living unit. This also has a plant room, mechanical workshop, science workshop and boot room.
Power for each caboose comes from the vehicle engine when vehicles are running and from 3kW generators when vehicle engines are off. This power supplies heat, light, energy for snow melting and cooking and battery charging. A separate heater is used for the main living caboose.
Each caboose sits on a 28ft sledge.
Storage sledges
Supplies are mostly kept on two 20-foot sledges which have had proven success in Antarctica by other operators. Spare supplies are kept on a separate sledge away from the cabooses in case of catastrophic loss such as a fire or crevasse fall. Food is stored in Zarges standard aluminium trunks on the storage sledge. Minimal packaging has been used for food to keep weight and waste to a minimum.
Fuel sledge
(see fuel)
Spare parts
Breakdowns and equipment failure has been carefully planned for, and all the components assessed as most likely to fail have spares on board the two travel units. There is a well-equipped workshop in the science caboose which includes engineering and welding space to allow the mechanics to undertake repairs.
Below: Possible layout of the Ice Train units (not to scale)