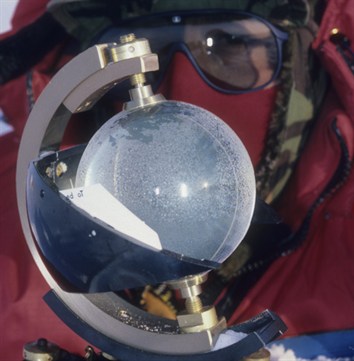 Crossing the Antarctic during winter will provide a unique opportunity to collect key scientific data to further our understanding of the effects of climate change, and advance other important areas of research.
During the traverse, the expedition team will carry out a number of important tests which will include mapping the height of the landmass using new GPS techniques, sampling surface snow to establish patterns of large-scale atmospheric transport of water vapour across the ice sheet, and sampling for cryo-bacteria capable of withstanding the extreme cold conditions.
Data and samples will be collected by trained members of the team using the expedition's science workshop housed in a 27ft insulated container in the second caboose. These will then be sent on to a number of respected research institutes for analysis.
The science projects can be split into Geophysical and Human Sciences. The Geophysical projects were chosen following call-out and receipt of proposals by international scientists organized by Dr Tim Cullingford, and a selection process by the Expedition Science Committee chaired by Sir Peter Williams (Former Vice President, Royal Society) and Dr Dougal Goodman (Foundation for Science and Technology and former Deputy Director of British Antarctic Survey). The Human Science project was created by Dr Mike Stroud and Dr Alex Kumar in conjunction with Kings College London Centre for Human and Aerospace Science.
Further research will be carried out on the ship during voyage to and from Antarctica, as well as at the beginning and end of the traverse.
The projects:
True surface-shape of the Antarctic Ice Sheet
Objectives: to map with centimetre precision the surface shape of the Antarctic Ice Sheet, along the 4,000 km expedition track, using GPS receivers and range sensors fitted to the Science Caboose. This high-resolution dataset will be valuable to key international environmental science efforts to monitor climate change-driven changes in the Antarctic Ice Sheet. These include the satellite remote sensing community e.g. Cryostat 2, IceSat (Ice-Bridge), who require a 'ground-truth' to ensure their equipment remains correctly calibrated, and the Ice Modeling community, who require profile data to allow them to develop better models required for predicting the future effects of climate change on Ice sheets (e.g. validation of ice mass balance models).
Bacteria in the cold
Objectives: to determine the potential diversity of extreme psychrophilic ('cold-loving') bacteria in Antarctic snow, and to establish a map of the distribution of bacteria across the Antarctic. The research forms the basis of creating a collection of Antarctic bacteria for conservation and biotechnological research purposes.
Moisture Transport by Water Isotope Analyses
Two projects have the objective of highly sensitive isotopic analyses of water from samples of surface snow. Scientists can use changes in the ratio of oxygen and hydrogen isotopes as an indirect measure of large-scale patterns of Antarctic moisture transport (water movement from one geographic location via the atmosphere to another geographic location) and temporal changes in Antarctic surface temperature (e.g. comparing different years in the same location). These data provide valuable information about Antarctic atmospheric dynamics of water vapour origin over the oceans and how it is ultimately deposited as snow on the surface of the ice sheet. Monitoring changes in water transport are important contributions to models projecting climate change.
"White Mars" – Human Exploration Analogue Research
Objectives: Similarities exist between the conditions humans encounter on a winter Antarctic expedition and those found in space. The objectives of this project, which is made up of around 20 different components, are to examine the physiological and psychological effects of both acute, intermittent exposure to extreme cold and chronic exposure to loss of the day/night cycle, low oxygen levels of the Polar plateau and stresses of living and working in a small group in a hostile, threatening setting. The proposed studies include assessment of nutrition and hydration status, measurements of respiratory function and circadian hormonal changes, and monitoring of sleep patterns and the changes in mood and motivation.
Find out more about the White Mars project here.